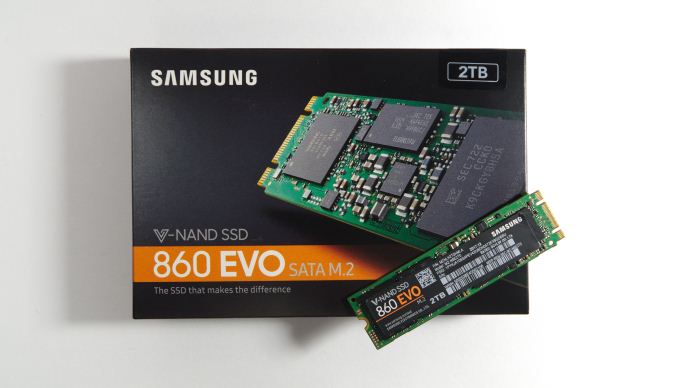 Last month, Samsung updated their retail SATA SSD lineup with a new generation of controllers and memory. The Samsung 860 PRO arrived on our test bench first and clearly outperformed its predecessor. However, its status as a premium-priced MLC-based SSD means those generational improvements were irrelevant to most consumers. The new Samsung 860 EVO is the mainstream counterpart with 3D TLC NAND and more competitive pricing.
M.2 Evolution: Samsung's Fourth Generation 3D-NAND, and MJX SATA Controller
The Samsung 860 EVO uses 512Gb TLC dies of Samsung's fourth-generation 3D NAND. Most of the competing 64L TLC SSDs in the consumer market are still using 256Gb dies for some or all models, in order to avoid the performance limitations that usually result when there are too few dies to access in parallel.

The controller on the 860 EVO and 860 PRO is the Samsung MJX, latest in a long line of successful SATA SSD controllers. Samsung hasn't provided much information about what this generation brings to the table, but one clear highlight is support for LPDDR4 DRAM. This is probably the primary source of the large power savings we've observed from the 860 series, and it is particularly welcome for the high-capacity models that includes multiple GB of DRAM.
Exploiting the Size, A Potential for High-Capacity Notebooks
Our Samsung 860 EVO sample for today is the 2TB model in the M.2 SATA form factor. This is the largest M.2 capacity available, though the 2.5" models go up to 4TB. Samsung has managed to make this a single-sided M.2 drive, which is preferred for the broadest compatibility with thin ultrabooks. Thanks to the large per-die capacity and the small size of their SATA controller, Samsung had a much easier time squeezing 2TB onto this drive than they did with the MLC-based 960 PRO NVMe drive. For the 960 PRO product, Samsung had to package the the drive's DRAM stacked on top of the controller in order to have room for four NAND packages; the 2TB 860 EVO M.2 instead uses just two NAND packages, each containing 16 dies.
Samsung 860 EVO Specifications
Capacity
250 GB
500 GB
1 TB
2 TB
4 TB
Interface
6 Gbps SATA
Form Factor
2.5", mSATA, M.2 2280
2.5", M.2
2.5"
Controller
Samsung MJX
NAND
Samsung 512Gb 64-layer 3D TLC V-NAND
LPDDR4 DRAM
512 MB
1 GB
2 GB
4 GB
SLC Write Cache
12 GB
22 GB
42 GB
78 GB
78 GB
Sequential Read
up to 560 MB/s
Sequential Write (SLC Cache)
up to 520 MB/s
Sequential Write (TLC)
300 MB/s
300 MB/s
500 MB/s
4KB Random Read
up to 100k IOPS
4KB Random Write
up to 90k IOPS
DevSleep Power
2.5 mW – 7 mW
Endurance
150 TBW
300 TBW
600 TBW
1200 TBW
2400 TBW
Warranty
5 years
MSRP
$94.99 (38¢/GB)
$169.99 (34¢/GB)
$329.99 (33¢/GB)
$649.99 (32¢/GB)
$1399.99 (35¢/GB)
For this review we must point out that it is unusual for us to receive review samples of a M.2 SATA SSD, instead of the larger 2.5" version. The smaller form factor offers the same performance and features, but required us to take a slightly different approach to power measurements. For this review, a 2.5" SATA to M.2 converter board was used. This board's main task is to step the 5V power supply down to the 3.3V used for M.2 SSDs. Some power is wasted in this conversion, so the 860 EVO has a slight handicap in our power and efficiency measurements.
2TB is still quite large for a consumer SSD, and many product lines do not include models this large. 64-layer 3D NAND is also still almost exclusive to the vertically integrated brands that manufacture NAND. These factors mean the 2TB 860 EVO has very few direct competitors. The Crucial MX500 and the WD Blue 3D NAND aka SanDisk Ultra 3D are the only other mainstream 64L TLC SATA drives. We haven't tested the 2TB models from either of those product lines, so this review includes results from the 1TB models. Generally speaking, larger SSDs are faster, but we've seen several cases where multi-TB drives are a bit slower than their 1TB counterparts, so the 1TB models included in this review are not at a clear disadvantage due to their capacity.
The High-Performance SATA SSD Market
For several generations, the SATA SSD market has only been able to offer small incremental performance improvements. Faster NAND and better controllers can't get around the 6Gbps SATA speed limit, so drives have to differentiate themselves with performance at low queue depths, and with power efficiency. The Samsung 860 PRO set several performance records, but for the most part those don't translate into a noticeable difference for most consumer workloads. However, the 860 PRO did greatly improve power efficiency, and it no longer appears to be necessary to sacrifice efficiency to reach the highest levels of performance possible from a SATA SSD.
The new Samsung 860 EVO drives, like the one in this review, get the same controller and DRAM updates as the 860 PRO, but historically TLC-based drives tend to be less power efficient than MLC-based drives. With stiffer competition from Crucial and WD/SanDisk, the 860 EVO will have a tough time standing out as a faster TLC option than anything else—a position that the 850 EVO held securely for most of its time on the market. The 860 EVO needs to match the 860 PRO's power efficiency improvements and deliver at least some performance improvement in order to attain the same unrivaled best-in-class status that the 850 EVO enjoyed.
Most of the industry is using 64-layer 3D NAND flash memory this year—the first time since Samsung's introduction of 3D NAND that they've faced competition that is so close on paper. For most of its long life in the market, the Samsung 850 EVO was unchallenged as the best TLC-based SATA SSD. At times it was able to command a substantial price premium over any other TLC drive and over many MLC drives. That started to change last year, when Intel, Micron, Toshiba and WD/SanDisk beat Samsung to market with 64-layer 3D NAND. Most of Samsung's competitors now have mature high-quality 3D NAND shipping in volume, so Samsung is competing on a fairly level playing field with this generation.
The AnandTech 2017/2018 Testbed
AnandTech 2017/2018 SSD Testbed
CPU
Intel Xeon E3 1240 v5
Motherboard
ASRock Fatal1ty E3V5 Performance Gaming/OC
Chipset
Intel C232
Memory
4x 8GB G.SKILL Ripjaws DDR4-2400 CL15
Graphics
AMD Radeon HD 5450, 1920x1200@60Hz
Software
Windows 10 x64, version 1709
Linux kernel version 4.14, fio version 3.1