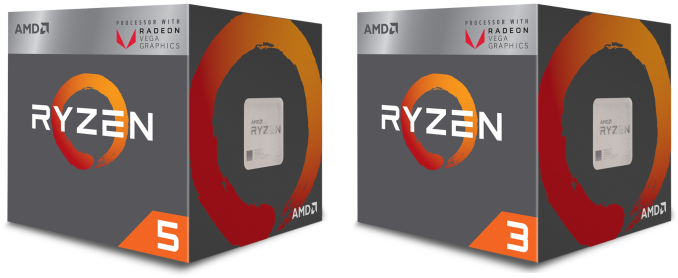 For the recent launch of AMD's Ryzen 5 2400G and Ryzen 3 2200G APUs, our review found that AMD raised the low-end integrated graphics bar to a new level. With superior gaming performance at lower cost and power draw compared to competing solutions, the Ryzen 5 2400G has effectively shut down the sub-$100 graphics card market. But outside of gaming, the other major use-case of integrated graphics is for media content playback and streaming, typically related to HTPC use. In recent days, one of the bigger issues is not just hardware encode/decode capabilities but also hardware DRM support, such as HDCP 2.2, or Microsoft's PlayReady 3.0 that is required for Netflix 4K and HDR streaming on PCs.
With this capability, the new APUs and upcoming low-power variants would be fit for higher-end HTPC use, but no AMD discrete or integrated PC GPU is currently PlayReady 3.0 capable. In that vein, AMD stated in the corresponding Ryzen desktop APU Reviewer's Guide:
Please note that HDCP 1.4/2.2 are supported for the purposes of streaming 4K+HDR content. AMD intends to have a production PlayReady 3-capable graphics driver in early Q2.
Referring to Polaris and Vega GPUs in general, AMD clarified for us that they are looking to bring PlayReady 3.0 support with driver updates later this year.

Unfortunately, there is no succinct way to translate how this affects consumers. The complete PC landscape for PlayReady 3.0 support and Netflix 4K/HDR streaming capability has grown increasingly complicated, despite Netflix's initial announcement a couple years ago. Building the right HTPC setup for 4K/HDR/UHD Bluray is rather involved. To recap, the following items are pre-requisites to stream Netflix 4K content on a PC:
Windows 10 Fall Creators Update (for HDR or using discrete graphics)
Windows 10 HEVC Media Extension, or equivalent (if missing due to Fall Creators Update)
Latest unspecified Windows Updates
Microsoft Edge or Windows 10 Netflix application
Netflix plan that supports 4K and HDR streaming
High or Automatic Streaming Quality in Netflix Account Playback Settings
Minimum internet connection speed of 25 Mbps
4K display with HDCP 2.2 capability
HDCP 2.2 certified cable with 4K capable digital interface
HDCP 2.2 capable and 4K capable digital interface port on motherboard video-out or discrete GPU
Supported discrete or integrated GPU (PlayReady 3.0, HDCP 2.2 output)
Appropriate graphics driver
For Intel, only Kaby Lake iGPUs or later are supported. For NVIDIA, only GeForce GTX 1050 or higher with at least 3GB VRAM are supported, with driver version 387.96 or higher required. As NVIDIA notes, streaming 4K on SLI/LDA is not supported, and multi-monitor configurations require all active monitors to be HDCP 2.2 capable or content will be downgraded to 1080p; the latter stipulation is presumably true for future AMD configurations as well. For Intel's part, this capability became enabled in November 2016. And while NVIDIA announced 4K Netflix support for Pascal at launch, it wasn't until April 2017 and 381.74 that they previewed 4K Netflix support for Windows 10 Insider builds, before production support with 387.96. As of the time of writing, Netflix help documentation still does not list NVIDIA graphics as supported for 4K streaming on PC.
Recent months have seen further wrinkles, such as the removal of the built-in HEVC decoder for Windows 10 Fall Creators Update; it is unclear if Microsoft's stated "Codec Pack" is incoming, though for the time it appears users have been struggling with a supposedly insider-only KB4041994, an automated Windows Store installation of HEVC Media Extension that fails if it is already present.
In these circumstances, AMD is adding their products into the mix. Outside of anything Netflix or vendor specific, Microsoft and PlayReady 3.0 have their own certification process, which includes SL3000 and a number of other steps. AMD stated that in light of the multiple hardware generations they are supporting, there are no announcements at this time about more specific timelines of software updates and related certifications, though they will update more closer to the driver releases.
Source: AMD