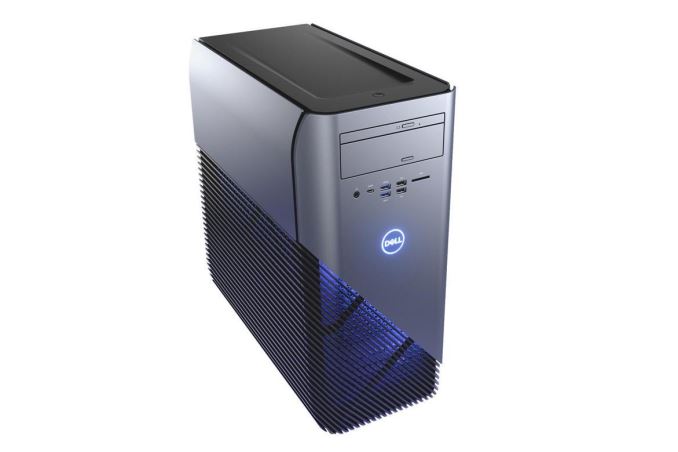 In another Dell gaming announcement today, they have announced the Inspiron Gaming Desktop 5676 that now adds 2nd Generation AMD Ryzen processors, an update over the 5675 that used previous generation Ryzen. Aside from the upgrade of the processor, the Inspiron gaming desktop supports Radeon graphics, up to the RX 580 8GB, which Dell says is ready for VR.
Dell's latest Inspiron chassis provides a unique look with a grey top and right side, while part of the front and left side has a finned appearance to it allowing the optional LED lighting to shine through and airflow to more easily enter. The front panel IO consists of a USB 3.1 Type-C port as well as a USB 3.0 port and two USB 2.0 ports for plenty of fast connectivity. It even has a slim optical drive at the top.
Specifications wise, we know about the 2nd Gen Ryzen CPUs powering these devices as well as the video card. If a single RX 580 isn't enough, the 5676 supports two for increased graphical horsepower for high-refresh rate or high-resolution gaming. Internal storage capacity is up to a 2TB HDD and a 256GB SSD (no mention if it uses a SATA port or M.2/PCIe NVMe). RAM capacity is up to a maximum of 32GB DDR4 which is plenty for a gaming. Internally there are five storage bays for expansion including up to three HDDs, two SSDs, and up to two PCIe x16 slots for graphics upgrades.
Pricing for the Dell Inspiron 5676 starts at $849.99 and will be available starting June 12th.
Want to keep up to date with all of our Computex 2018 Coverage?

Laptops

Hardware

Chips
Follow AnandTech's breaking news here!