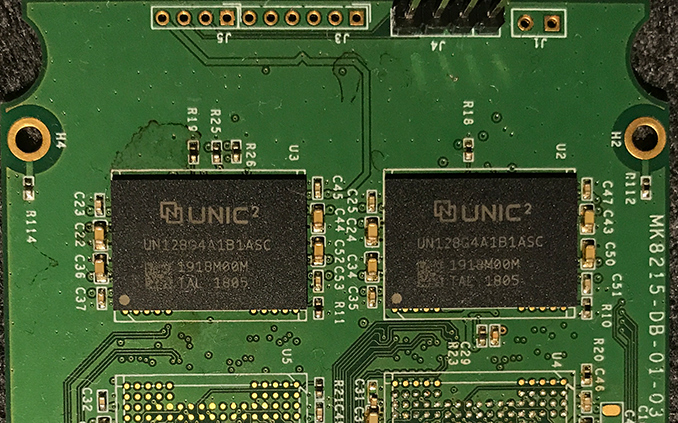 Having received tens of billions of dollars from the government, the Chinese semiconductor industry is developing at a rapid pace. Earlier this year Chinese Xi'an UniIC Semiconductors began to sell its DDR4-2133 memory chips, and right now Yangtze Memory Technologies Co. and UNIC Memory Technology are gearing up to start selling 64-layer 3D TLC NAND memory in volume.
Maxio Technology, a developer of SSD controllers with a subsidiary in China, is showcasing a prototype SSD based on its MAS0902 controller as well as 3D TLC NAND flash memory with UNIC markings. The SSD in question is an inexpensive 256 GB SATA drive aimed at entry-level PCs and its performance is in line with other cheap SSDs (hence, will barely impress enthusiasts). Meanwhile, the memory used by the drive deserves some attention.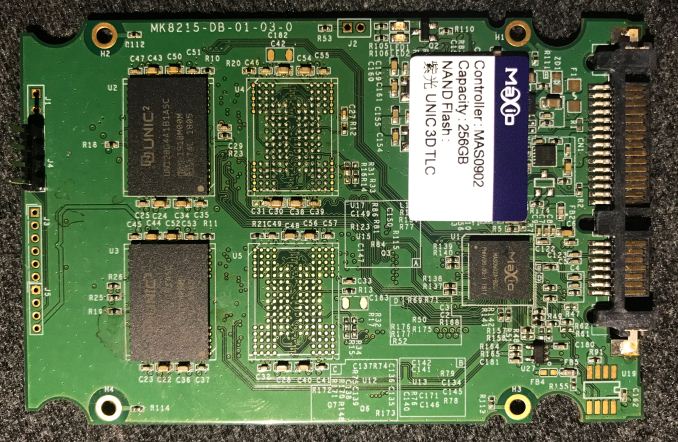 Yangtze Memory Technologies Co. and UNIC Memory Technology belong to Tsinghua Unigroup, a government-controlled high-tech conglomerate from China. Yangtze Memory is a maker of semiconductors that reportedly has the capability to produce 32-layer 3D NAND memory and is gearing up to make 64-layer 3D NAND, according to TrendForce. UNIC is responsible for selling memory and products on its base. The company has a capability to buy wafers, cut chips, package them, test them, and then build eMMC or SSD products.
Since 32-layer 3D NAND is largely considered a test vehicle for 3D NAND, it is unlikely that such memory from Yangtze will become very widespread. Therefore, in a bid to help the development of the local SSD/eMMC/UFS industry before Yangtze comes up with commercially-viable 64-layered 3D NAND, UNIC is reportedly reselling Intel's 256 Gb 3D TLC NAND chips under its own brand. Meanwhile, Maxio can take advantage of Tsinghua's intention to build up a storage device industry and expand sales of its controllers in China.
It will not be surprising if Intel's own memory chips offer more features than the chips sold under the UNIC trademark, but at present, it is impossible to find out more information. What is important is that Yangtze is on track with its 64-layer 3D NAND and eventually UNIC will sell Chinese-developed flash.
Related Reading:
Want to keep up to date with all of our Computex 2018 Coverage?

Laptops

Hardware

Chips
Follow AnandTech's breaking news here!