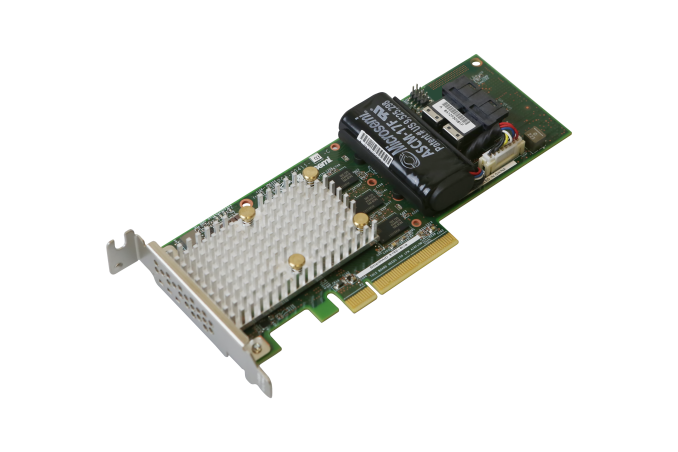 Last year, Microsemi released a new generation of 12Gbps SAS controller chips, then incorporated them into a variety of SAS/SATA host bus adapter (HBA) and RAID cards under their Adaptec brand. Now, their SmartRAID family of advanced RAID cards is getting two new models that bring new features to the product line.
First up is the SmartRAID 3162-8i, which decodes to indicate a card with 8 internal ports and a 2GB DRAM cache with power loss protection. This is the first Adaptec RAID card to feature a fully-integrated power loss protection scheme including supercapacitors on the card itself. Previous SmartRAID cards such as the 3152-8i have all required an external supercapacitor module to be mounted in another expansion slot or elsewhere in the server. Putting supercapacitors on the half-height half-length card makes it fairly crowded and has the potential to restrict air flow across the controller, so Microsemi has upgraded many components on the card with industrial-grade parts rated for higher temperatures. This has also allowed Microsemi to spec the card for 150 linear feet per minute (LFM) of airflow instead of the 200 LFM required by the 3152-8i and similar cards.
The second new product is the SmartRAID 3162-8i/e, which uses the same hardware as above but is the first SmartRAID card to enable the encryption capabilities of the SmartROC 3100 controller chip. This controller-based encryption offers an alternative to using self-encrypting drives (SEDs) or software encryption on the host CPU. Microsemi brands this encryption system as maxCrypto, and touts its combination of the minimal performance overhead of SEDs with the flexibility of software encryption to support things like a mix of encrypted and unencrypted volumes, and re-keying or re-encrypting existing data in-place.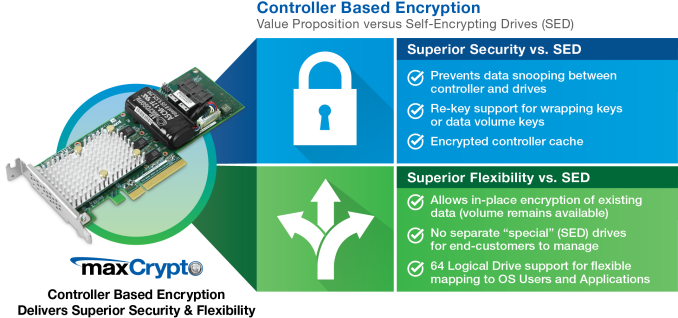 The encryption keys are derived using a master passphrase that generates a master key stored on the controller card. Each encrypted RAID volume created on the controller gets a separate volume encryption key generated by the master key. In the event that the RAID card dies, a replacement card can be swapped in and can reconstruct all the volume keys using the original master passphrase. The cipher used us AES256 in XTS mode.
The new cards are in volume production now.
Source: Microsemi