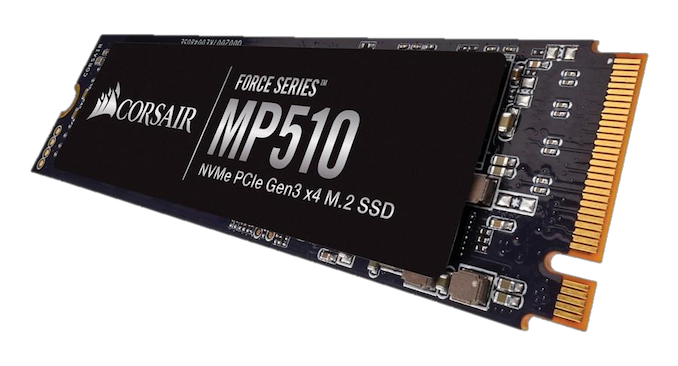 The Corsair Force Series MP510 may appear at first glance to be an incremental update to the earlier MP500, but under the sticker it's an entirely new and far better drive. The MP500 was Corsair's take on the Phison E7 first-generation NVMe SSD controller paired with planar MLC NAND. The MP510 adopts the new Phison E12 controller and Toshiba's 64-layer 3D TLC NAND. The result is a drive that aims for the high end and actually makes it this time.
Earlier this year, we previewed the Phison E12 controller and its M.2 SSD reference design. The Corsair Force MP510 is based on that same hardware platform and features the same firmware version number, so not much should have changed except for the application of a Corsair logo and price tag. The Phison E12 is the high-end controller from their second generation of NVMe controllers, with the E8 as the entry-level NVMe controller with fewer PCIe lanes and NAND channels. Phison has close ties to Toshiba, and most Phison drives use Toshiba's NAND flash. Toshiba's transition to 3D NAND was relatively late and that stuck many Phison SSD vendors with uncompetitive SSDs last year, including most drives with the E7 controller. Toshiba's 64-layer 3D TLC has reversed that situation and is giving Phison SSD vendors access to cutting-edge flash that is fast, cheap, and power efficient. Phison's E12 controller allows drives to make the most of that flash.
Corsair Force Series MP510 Specifications
Capacity
240 GB
480 GB
960 GB
1920 GB
Form Factor
double-sided M.2 2280, PCIe 3 x4
Controller
Phison PS5012-E12
NAND Flash
Toshiba BiCS3 256Gb 64-layer 3D TLC
Sequential Read
3100 MB/s
3480 MB/s
3480 MB/s
3480 MB/s
Sequential Write
1050 MB/s
2000 MB/s
3000 MB/s
2700 MB/s
Random Read
180k IOPS
360k IOPS
610k IOPS
485k IOPS
Random Write
240k IOPS
440k IOPS
570k IOPS
530k IOPS
Rated
Power
Read
6.1 W
6.7 W
6.9 W
7.1 W
Write
3.5 W
4.8 W
5.6 W
6.2 W
Idle
30 mW
Warranty
5 years
Write Endurance
400 TB
0.9 DWPD
800 TB
0.9 DWPD
1700 TB
1.0 DWPD
3120 TB
0.9 DWPD
MSRP
$65.99
(27¢/GB)
$124.99
(26¢/GB)
$235.99
(25¢/GB)
The Corsair Force MP510 is available in capacities from 240GB to 960GB, with a 1920GB model on the way. That largest model has slightly reduced performance specifications from the 960GB that we have tested, and the smallest 240GB model has significantly constrained performance, with only the sequential read speeds still in high-end NVMe territory.
All capacities have a rated write endurance of around 0.9-1.0 drive writes per day and a five year warranty period, which are standard for high-end consumer SSDs. Maximum power draw ranges from 6.1-7.1W depending on capacity, so the drive will get warm but thermal throttling shouldn't be a problem outside of synthetic benchmarks.

The Corsair Force MP510 faces very direct competition from other Phison E12 SSDs such as the MyDigitalSSD BPX Pro, which the MP510 is surprisingly undercutting on price at the moment. Other competitors include:
the Samsung 970 EVO and Western Digital WD Black, flagship TLC SSDs from major brands that are only a little bit more expensive than the MP510
The HP EX920, ADATA SX8200 and other similar drives based on the Silicon Motion SM2262 controller, some of which are currently cheaper than the MP510
Also included in this review are several entry-level NVMe drives, our results from testing an engineering sample of the upcoming Silicon Motion SM2262EN controller, and the Toshiba XG6 OEM SSD that will hopefully get a retail version soon.
AnandTech 2018 Consumer SSD Testbed
CPU
Intel Xeon E3 1240 v5
Motherboard
ASRock Fatal1ty E3V5 Performance Gaming/OC
Chipset
Intel C232
Memory
4x 8GB G.SKILL Ripjaws DDR4-2400 CL15
Graphics
AMD Radeon HD 5450, 1920x1200@60Hz
Software
Windows 10 x64, version 1709
Linux kernel version 4.14, fio version 3.6
Spectre/Meltdown microcode and OS patches current as of May 2018