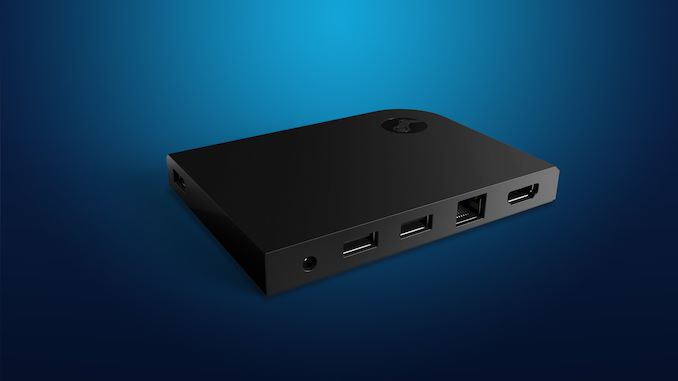 First launched mid-decade, Valve's Steam Link was one of several local game streaming products to hit the market, allowing users to play PC games away from their PC by streaming its contents to another room. And while the device definitely made an impression upon its launch, the writing has been on the wall for some time now that Valve hasn't been completely satisfied with the hardware. Now the company is announcing that they have wrapped up production of the Steam Link, with the streaming box already out of stock in Europe and most of North America.
Initially released back in November of 2015, the Steam Link was part of a multi-pronged Valve effort dubbed "Steam Universe" that focused on getting Steam and its games on to living room TV screens. This initiative included the SteamOS Linux distribution, Steam Machines running SteamOS, and then the Steam Link. The Steam Link in turn was a relatively simple and low-cost set-top box that served as a remote streaming endpoint; gamers could use it to see what Steam was seeing on their PC, and then remotely play their games. Valve kept the box simple – it was little more than an H.264 decoder with network connectivity and a Bluetooth adapter – allowing it to be small and cheap.
Of the three prongs of the Steam Universe initiative, the Steam Link was in turn easily the most successful. While Steam Machines fizzled almost immediately – and SteamOS remains a neat side-project – the Steam Link was sold in volume by both Valve and retail partners. Though not the first PC streaming solution, it was by far the most prevalent. And, if you could get past the inheriant lag and occasional game compatibility issues, it worked pretty well.
However it's also been clear that while the Steam Link made an impact, Valve has wanted out. The company has offered frequent sales on the hardware in the past year, often selling it for only a few bucks plus shipping (including right now). So the company has been trying to draw down their Steam Link inventory for some time, and with their latest announcement it looks like they've finally completed the task.
And while Valve's very brief announcement doesn't officially state why they're getting out of the STB business, the more recent development of the Steam Link App paints a very clear picture. The STB was little more than an H.264 decoder to begin with, and the massive prevalence of smartphones means that pretty much everyone carries one of those in their pocket, never mind the rapid rise of smart TVs. Even with the Steam Link box, the strength of Valve's play was in the software and integration, so like so many other discrete devices over the past decade, the streaming STB's functionality has been subsumed by other smart devices.
Finally, for their part, Valve is reiterating that they will still continue supporting all forms of Steam Link, app and STB. So while hardware production has wrapped up, Valve seems prepared to offer what little support is necessary for their most successful hardware product to date.