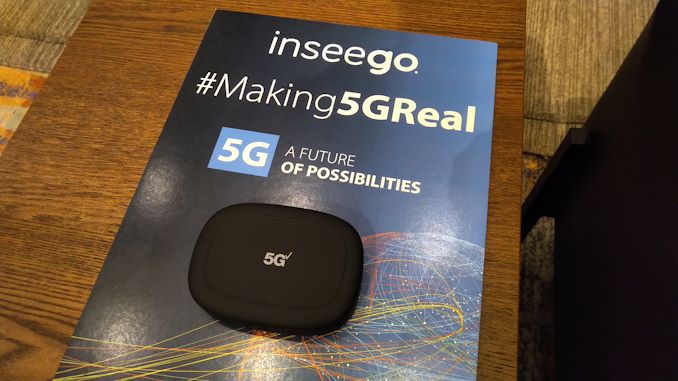 Most of the 5G deployments to date are using mobile hotspots – devices that convert a 5G signal into another form of data transfer, usually some form of ubiquitous Wi-Fi. So while there are no direct 5G devices right now, the initial business deployments are going to center around the mobile hotspot concept, allowing other devices to take advantage of the new technology, albeit indirectly. At the Qualcomm Snapdragon Summit, both Netgear and inseego had their mobile hotspots on display.
Netgear for AT&T
Mobile hotspots can be big and brash, or very simple. The 'Netgear Nighthawk 5G Mobile Hotspot' (official name) is the first of its kind, and looks like a small black box with a small LCD screen on the side.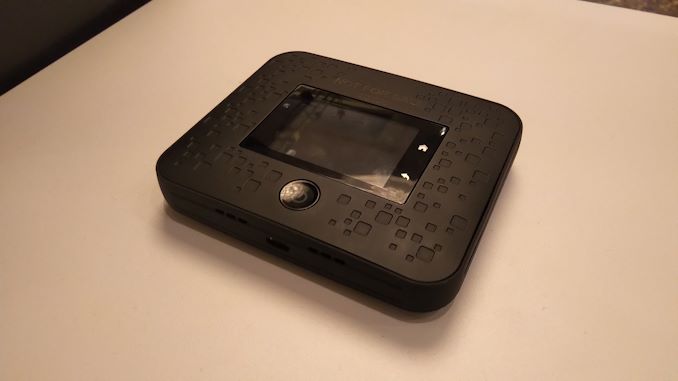 Inside is the Snapdragon X50 modem, the required mmWave antennas, as well as a Snapdragon 855 SoC to provide some of the control logic but also the built-in 802.11ac/ax output for other devices to connect to. We've mentioned before that for every X50 deployment we've seen, the S855 is required for that control logic, and Qualcomm states they were built symbiotically to enable 5G.
Also inside is a battery, although it wasn't mentioned what size or how long it would last. Aside from the 5G input and 802.11ac/ax output, there is also a USB 3.1 Gen 1 for 5 Gbps output. The Netgear representative suggested that they see this device being used more so as a tethered hotspot than a Wi-Fi access point, but obviously that depends on the user.

The devices on display at the Summit weren't for the press to pick up and use. There was an unpowered demo unit Velcro-ed to a table that we weren't allowed to remove, and the unit in the room that was supposedly taking data from the 5G radios wasn't in a position that they'd let us pick it up and take pictures – it was on the top of a display. Either way, there was no indication we could guarantee it was working and had to take their word for it.
Details and pricing about how the Nighthawk will be deployed on AT&T's 5G network are set to come through in the first half of 2019.
Inseego for Verizon
In the other demo room, inseego had its 5G hotspot for Verizon up and running. In this demo room, as Motorola and Samsung both had 5G hardware, inseego's deployment was limited to a small VR demo, however the unit was clearly working and taking data.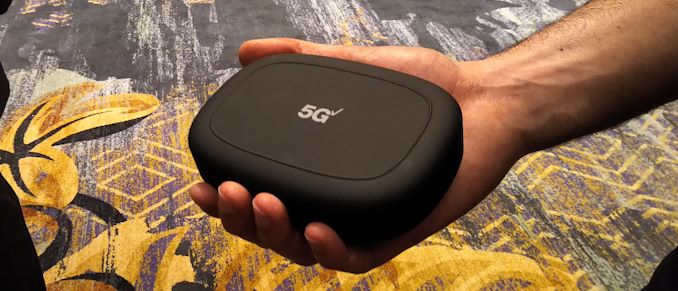 As with this device, the idea is that 5G signals come in and it is converted into Wi-Fi for other people to use. The focus here is Wi-Fi, with the device being 802.11ax-ready (Wi-Fi 6 ready) although the unit also has an Ethernet RJ-45 port (unclear what standard) to connect to a network if needed as well as a Type-C connection for direct tethering. This is the small business device designed to help several employees access the internet. There is also a small LCD display.

Inside the device is similar to the Netgear, with a Snapdragon X50 modem, an S855 SoC, and a built in battery. This time we were told there is a 4400 mAh battery, and the goal is to supply a full day's worth of battery. The company said that they have 10 hours right now, but still have a good amount of optimization to do. On speed, the goal is to support 2 Gbps of mmWave 5G connectivity with sub-10 millisecond latency.

Inseego makes the device, however it will be Verizon that sells it. This will happen in 2019, according to the press materials, although similarly to the other unit, exact timing and pricing is set to follow.
Related Reading