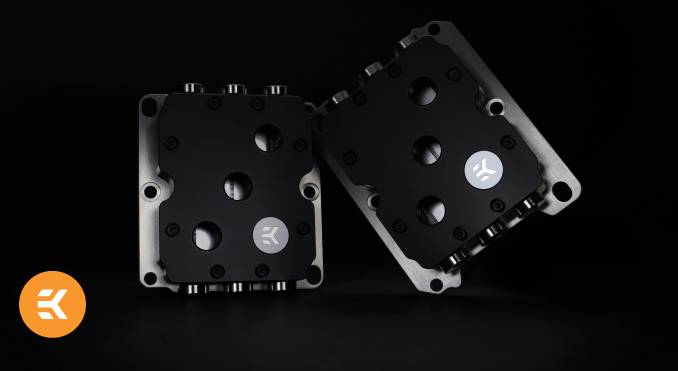 EKWB has introduced its EK-Annihilator Pro water block, a new, high-end water block that's designed for use with Intel's Xeon W-3175X extreme workstation processor. As the company is intending to cover a range of scanrios with their new water block, it's available for both square and narrow ILM (Independent Loading Mechanism) socket mountings, which are typically used by workstations and servers respectively.
EKWB's EK-Annihilator Pro water blocks feature a machined copper base made of 'purest copper available' (according to the manufacturer) that is treated with nickel electroplating. The top of both water blocks is made of black POM acetal, whereas the hold-down brackets are made of stainless steel. Meanwhile the water blocks feature nine water ports in total in a bid to maintain compatibility with different cooling solutions. There are three standard G1/4″ ports on top for taller cooling systems, and six G1/8″ threaded ports on the sides for lower-profile coolers.

When it comes to compatibility, the EK-Annihilator Pro can work with all types of Socket P platforms and LGA3647 processors, but the they were designed primarily for Intel's Xeon and particularly for the Xeon W-3175X. The latter is aimed at performance-minded enthusiasts that are more likely to use custom-built liquid cooling solutions.
The EKWB EK-Annihilator Pro water blocks are already available directly from the company for €139. In the near future they will also be available from EKWB's resellers.
Related Reading:
Source: EKWB