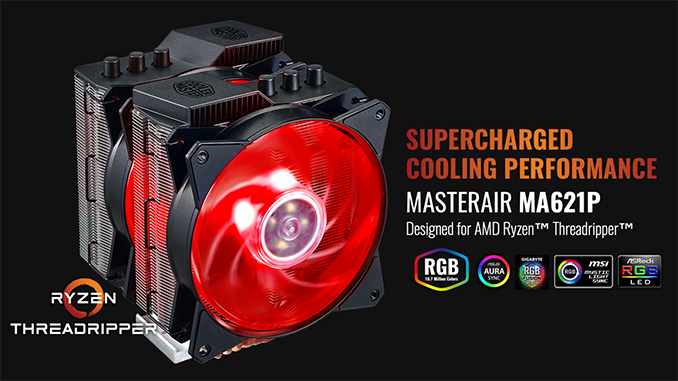 Cooler Master has introduced a new air cooler specifically designed for AMD's Ryzen Threadripper processors. Dubbed the MasterAir MA621P TR4 Edition, the cooler features a special base for use with AMD's TR4 CPUs, as well as multiple heat pipes and up to three fans to cool AMD's mighty processors. And, for the aesthetically-minded out there, the new cooler also includes addressable RGB lighting.

The Cooler Master MasterAir MA621P TR4 Edition is based around a dual tower heatsink featuring aluminum fins that's mounted on six heat pipes that come in direct contact with IHS of AMD's Threadripper processor. By default, the cooling system comes with two 120-mm MF120R RGB fans that spin at up to 1800 RPM, but it is possible to install one more fan to further improve the performance of the device.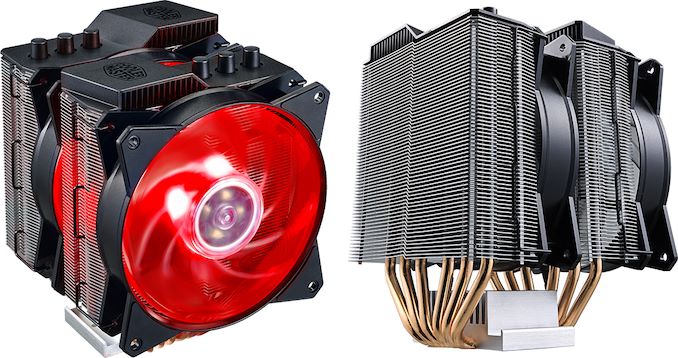 The manufacturer is not disclosing an official TDP rating for its MasterAir MA621P TR4 Edition, but since we are talking with a cooler aimed at AMD's Ryzen toasty Threadripper CPUs, this is a cooler that should be dissipate better than 250 W.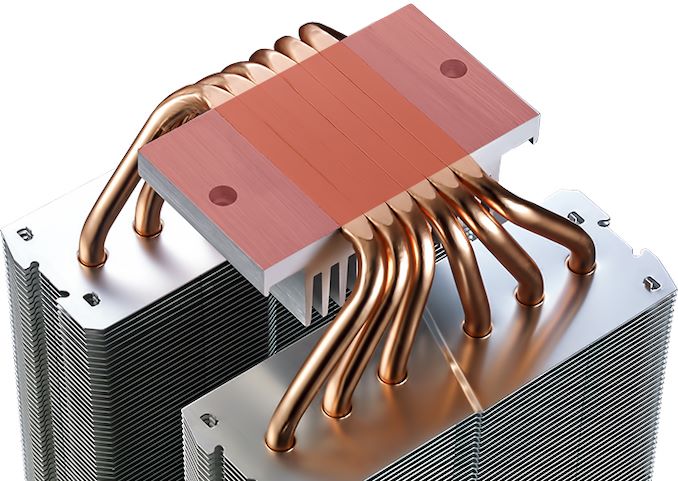 It should be noted however that since the MasterAir MA621P TR4 Edition is such a sizable cooler, it does encroach on most boards' DIMM slots if the optional third fan is installed. In that case, the maximum clearance for DIMMs installed near the CPU slot is 35.6 mm; so not all contemporary DIMMs can be used in this configuration. And while it should be possible to raise the fans to allow for more room, it's worth pointing out that unlike Cooler Master's similar MA620P cooler for other CPUs, the company doesn't list that as a suggested option for this TR4 version. Meanwhile, the sizable cooler will also require a good bit of clearance on its own; the completed cooler 164.5 mm tall, so a chassis with sufficient amount of space inside is a must.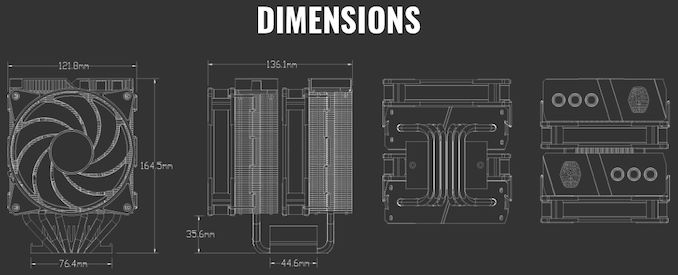 As for its RGB LEDs, Cooler Master's MF120R RGB fans can be controlled using the ASUS Aura Sync, ASRock RGB LED, GIGABYTE RGB Fusion, and MSI Mystic Light software. Alternatively, there is a basic hardware RGB lighting controller.
Cooler Master MasterAir MA621P TR4 Edition
MAP-D6PN-218PC-R2
CPU Socket
AMD TR4
Heat Sink Material
Dual tower heatsink, aluminum fins, 6 heatpipes
Dimensions (heatsink)
121.8 × 136.1 × 164.5 mm | 4.8 × 5.4 × 6.5 inches
Fan Dimensions
120 × 120 × 25 mm | 4.7 × 4.7 × 1 inches
Fan Speed
600 ~ 1,800 RPM +/- 10%
Fan Air Flow
53.4 CFM
Fan Air Pressure
1.65 mm H20
Fan MTTF
160,000 hours
Fan Connector
4-pin
Fan Power Consumption
3.6 W
Warranty
2 years
MSRP
$59 (?)
Cooler Master plans to start sales of the MasterAir MA621P TR4 Edition cooler on March 15. In Japan the price without tax is expected to be ¥6,580 ($59). This, interestingly enough, is considerably lower than the price of the Cooler Master-designed Wraith Ripper, which is AMD's official/reference cooler for 2nd gen Threadripper.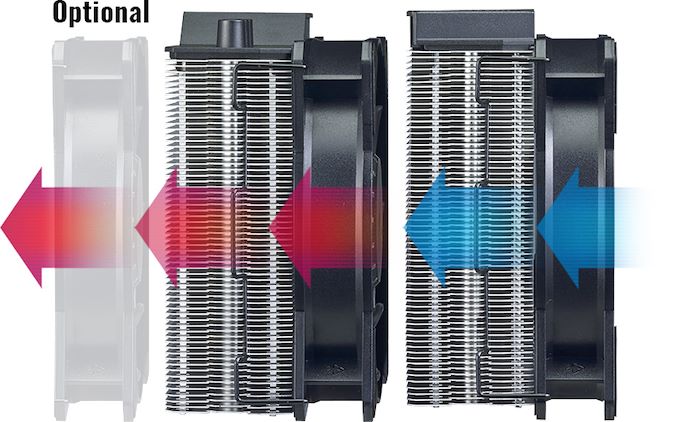 Related Reading:
Source: Cooler Master (via Hermitage Akihabara)