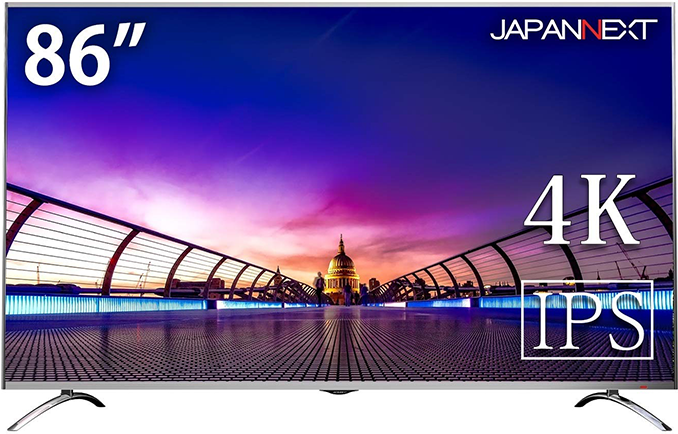 Just when you thought that NVIDIA-inspired 65-Inch Big Format Gaming Displays (BFGDs) were huge, JapanNext has rolled-out its new 75 and 86-inch monitors. The JN-IPS7500UHDR-KG and JN-IPS8600UHDR monitors are aimed mostly at multimedia enthusiasts who also need to get some work done, but both LCDs feature profiles for gaming too.
The 75-inch and 86-inch displays from JapanNext are based on an 8+2-bit IPS panel featuring a 3840×2160 resolution, 330 or 400 nits brightness, a 1200:1 contrast ratio, 178º viewing angles, a 4 ms response time, and a 60 Hz refresh rate. The monitors use a direct LED backlighting to ensure brightness uniformity. The screens are covered with a half-gloss coating.
JapanNext claims that the monitors support HDR, but there is no word whether they support HDR10 or other industry-standard transport methods. Meanwhile, firmware of the 75-inch and 86-inch displays feature profiles for 'standard', Games (genre depending), Movies, and Photos. To switch modes and make other adjustments, both monitors come with a remote. Unfortunately, it looks like the LCDs do not support AMD's FreeSync technology, at least the manufacturer does not advertise the capability.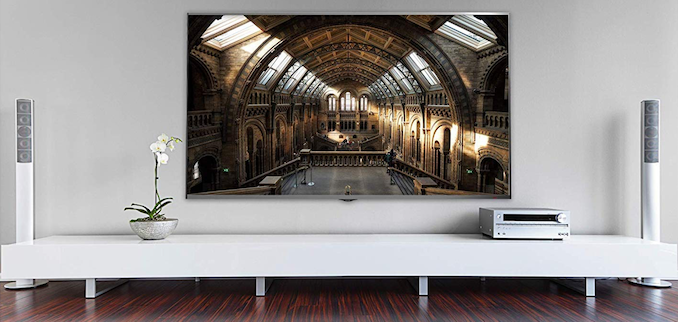 Since we are talking about displays aimed primarily at multimedia enthusiasts, they feature an extremely robust set of connectors to attach multiple devices. The JN-IPS7500UHDR-KG and JN-IPS8600UHDR monitors are equipped with one DisplayPort 1.2, one HDMI 2.0, two HDMI 1.4, and a D-Sub input (just in case someone wants to attach a Windows XP-based PC to an 85-incher to play games from the 1990s - Ed: Or a BMC-equipped server). There is also an S/PDIF optical connector, an audio input, a headphone output, and built-in 5W stereo speakers.
Since the displays are very large, they come equipped with TV stands that can barely adjust anything. Both LCDs also feature VESA mounts, but since the 75-inch and 86-inch displays weigh 40 and 56 kilograms respectively, it might be difficult to find an adjustable VESA wall mount for such monitors.
JapanNext's 75-Inch and 86-Inch Monitors
JN-IPS7500UHDR-KG
JN-IPS8600UHDR
Panel
75" IPS
86" IPS
Native Resolution
3840×2160
Maximum Refresh Rate
60 Hz
Response Time
4 ms
Brightness
330 cd/m²
400 cd/m²
Contrast
1200:1
Viewing Angles
178°/178° horizontal/vertical
Pixel Pitch
0.42 mm2
0.49 mm2
Pixel Density
58.7 ppi
51.2 ppi
Color Gamut
1.07 billion
Inputs
1 × DisplayPort 1.2
1 × D-Sub
1 × HDMI 2.0
2 × HDMI 1.4
Outputs

3.5 mm input & output


SPDIF
USB Hub
None (?)
Audio
5 W × 2
Power Consumption (idle/active)
Idle: 0.5 W
Max: 240 W
Idle: 0.5 W
Max: 360 W
Modes
Standard, Game (1, 2, 3), Photo, Movies
JapanNext will start sales of the JN-IPS7500UHDR-KG and JN-IPS8600UHDR on March 16. The 86-incher costs ¥414,990 ($3,447 pre-tax) when bought from Amazon as well as ¥ 499,990 ($4,153 pre-tax) when bought directly. The 75-incher is priced at ¥357,990 ($2,973 pre-tax). It does not look like JapanNext has plans to sell the displays outside of Japan.
Related Reading