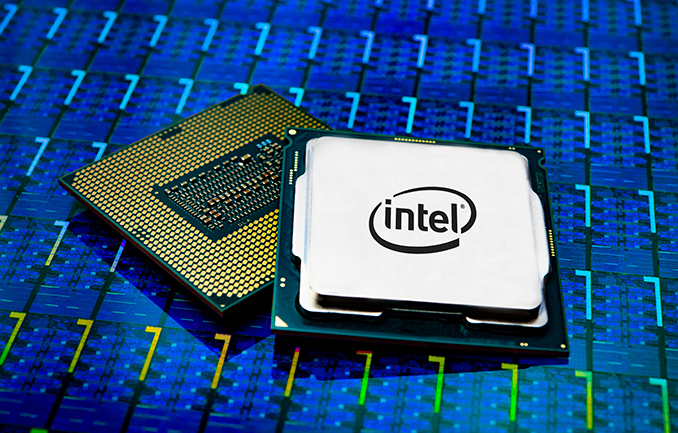 ASUS and GIGABYTE have issued BIOS updates for their Intel 300-series chipsets-based motherboards that enable the platforms to work with Intel's upcoming 9th Gen Core processors featuring a new stepping. The new CPUs will reportedly be available in the coming weeks.
Starting this week, all of ASUS' 300-series motherboards with the latest BIOS versions will support Intel's upcoming 9th Generation Core processors based on a new stepping. GIGABYTE has also issued new BIOS versions for its 300-series mainboards to enable support for the aforementioned CPUs.
GIGABYTE reveals that the new stepping will carry the R0 stepping ID. Intel's existing 9th Gen Core processors carry the P0 stepping ID, whereas the 8th Gen Core processors use the U0 silicon. ASUS says that the new Coffee Lake R0 CPUs will be released in the second quarter. Regrettably, neither of the motherboard makers disclose differences between the current and forthcoming CPUs.
ASRock has also made a similar announcement.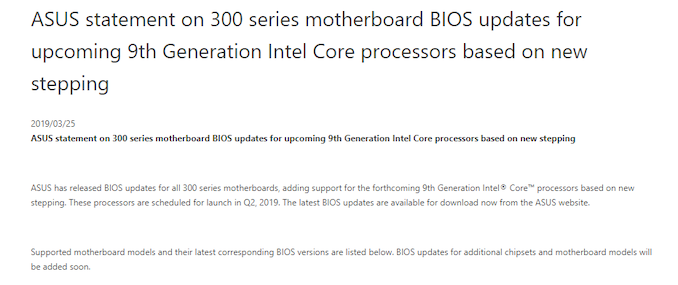 Producers of processors release new product steppings for many reasons. Some new steppings fix certain errata, other enable higher clocks or lower TDP. Without a proper disclosure from Intel it is hard to say what the new stepping will bring. Meanwhile, it is noteworthy that Intel plans to launch a new stepping of its Coffee Lake processors for whatever reason as it gets increasingly hard to make any alterations to modern CPUs.
Intel did not comment on the news story.
Related Reading
Source: ASUS (via TechPowerUp)