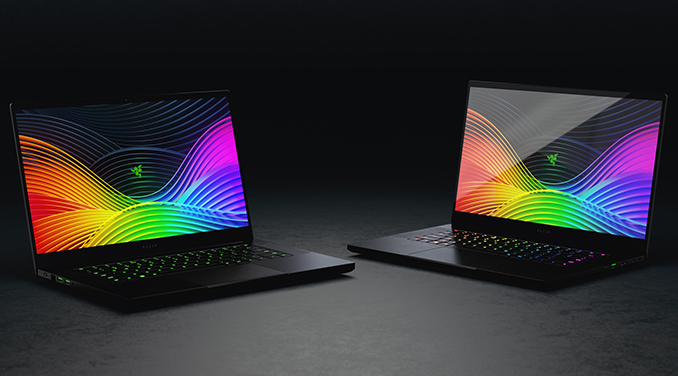 Kicking off a torrent of new laptops hitting the streets today, Razer has introduced its next generation Blade 15 laptops for gamers and prosumers. One of the core laptops within Razer's product portfolio, the new Blade 15 offers OLED or 240 Hz LCD display options, Intel's latest six-core CPU, and NVIDIA's GeForce RTX graphics processors. The new gaming notebooks will clearly offer considerably better user experience than their predecessors due to improvements, but they will also be slightly bulkier than the Blade 15 machines launched last year.
So Similar, Yet So Different
Having established a strong position in the market for gaming laptops, Razer is now expanding its families to address the needs of wider user bases. This year Razer will offer one Blade 15 Base model designed for mainstream gamers, as well as multiple versions of its Blade 15 Advanced models aimed at more demanding customers and prosumers. While the new Blade 15 SKUs have similarities, these are very different notebooks at times.

All of the various 2019 Blade 15 models are powered by Intel's six-core Core i7-9750H processor (2.6 – 4.5 GHz) as well as HM370 chipset. And both chassis designs are made of CNC-machined aluminum chassis (with 'advanced' models available both in black and silver) that have been outfitted with a 15.6-inch display. Overall the base model Blade 15 is 19.9 mm thick, whereas the Blade 15 Advanced is 17.8 mm thick, the shrink owing to the differences in the systems that go right on down to the change in motherboards motherboards.
The Blade 15 Base
The Razer 15 Base model is equipped with a 15.6-inch Full-HD matte display featuring a 144 Hz refresh rate, NVIDIA's GeForce RTX 2060 GPU with 6 GB of GDDR4 memory, 16 GB of DDR4-2667 RAM (expandable to 32 GB), and a 512 GB PCIe 3.0 x4/NVMe SSD. The laptop has an empty 2.5-inch SATA bay, allowing an additional SATA HDD/SSD to be installed to expand storage space.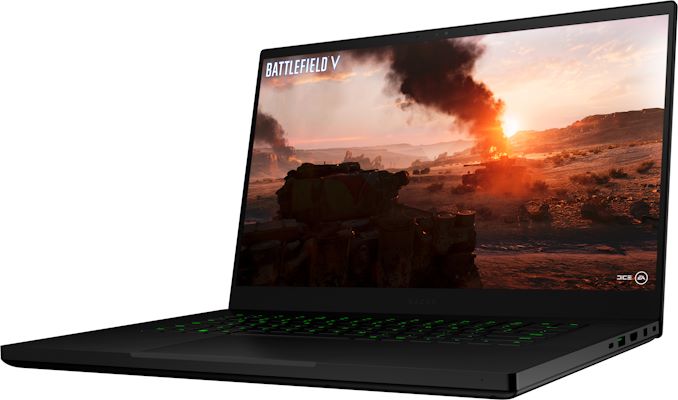 Being aimed at mainstream gamers, the Razer 15 Base is configured rather conservatively when it comes to connectivity and general I/O features. The notebook has Intel's Wireless-AC 9560 802.11ac + Bluetooth 5 solution, a GbE port, one Thunderbolt 3 connector, three USB 3.1 Gen 1 Type-A ports, two display outputs (miniDP 1.4 and HDMI 2.0b), a 3.5-mm headset jack, a 1MP/720p webcam, and so on.
Since the notebook has a 2.5-inch bay that takes up a bit of room, the Razer 15 Base comes with a slightly smaller 65 Wh lithium-ion polymer battery. With that battery installed, the laptop weighs 2.1 kilograms, which is pretty light for a 15.6-inch mobile PC
The Blade 15 Advanced
The Advanced version of the Blade 15 is aimed not only at hardcore gamers that will enjoy a 15.6-inch LCD with a 240 Hz refresh rate, but also on prosumers who will take advantage of a 4K Ultra-HD OLED touch-sensitive monitor featuring a 1 ms response time and a 100% coverage of the P3 D65 (Razer says DCI-P3 but it is likely P3 D65) color gamut.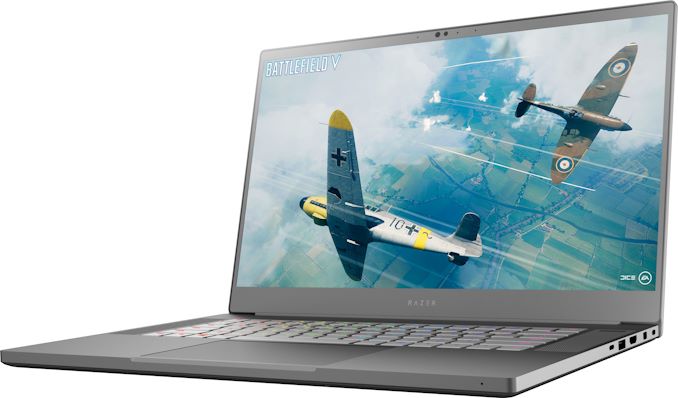 To provide better performance in games, Razer's Blade 15 Advanced notebooks come with either NVIDIA's GeForce RTX 2070 8 GB Max-Q or GeForce RTX 2080 8 GB Max-Q. The laptops are equipped with 16 GB of DDR4-2667 (expandable to 64 GB) of RAM as well as a 256 GB or 512 GB PCIe 3.0 x4/NVMe SSD. It is noteworthy that the 'advanced' notebooks do not have the base model's 2.5-inch SATA bay for further storage expansion.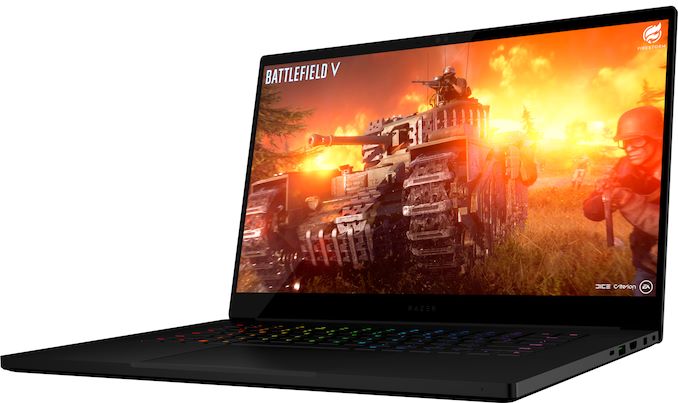 Since the Blade 15 Advanced SKUs are designed for power users that tend to be less conservative yet more demanding than mainstream gamers, the PCs deprecate GbE, but are outfitted with Intel's Wireless-AX200 802.11ax + Bluetooth 5 solution, one Thunderbolt 3 connector, three USB 3.2 Gen 2 Type-A ports, two display outputs (mDP 1.4 and HDMI 2.0b), a 3.5mm audio jack, a 1MP/720p webcam with IR sensors for Windows Hello, and so on.

The lack of a a 2.5-inch bay also means that Razer could install a larger 80 Wh battery inside. The larger battery does add ever the slightest amount of weight compared to the base model, with the weight of the advanced models ranging between 2.15 and 2.21 kilograms. However what these models add in weight they lose in overall thickness, with a z-height of just 17.8 mm.

Pricing & Availability
Razer's new Blade 15 gaming laptops will be available directly from the company in North America starting this week, with broader availability expected in May. The Blade 15 Base model will be priced at $1,999, whereas the Blade 15 Advanced will start at $2,399.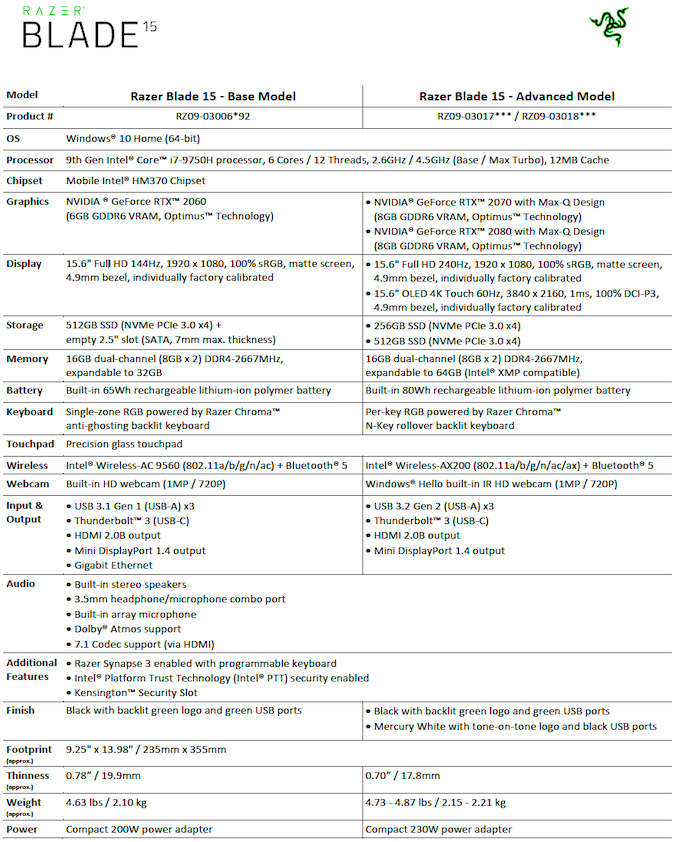 Related Reading:
Source: Razer