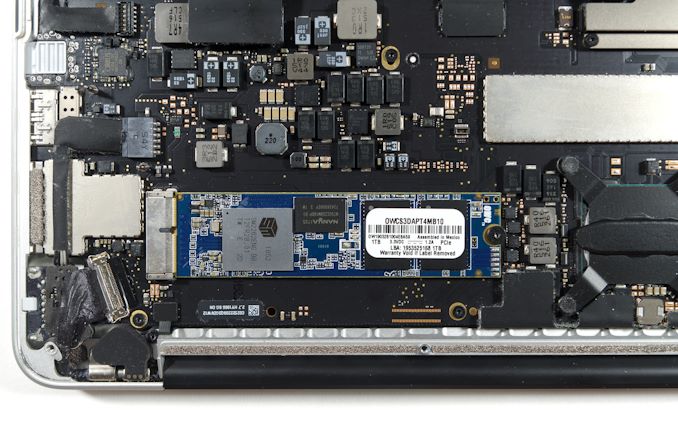 Apple was an early adopter of PCIe SSDs, introducing them in 2013 when the NVMe specification was still in its infancy and before any NVMe hardware was available. Apple's earliest PCIe SSDs used the AHCI protocol for compatibility with existing operating systems, but hardware compatibility was a very different story. Apple's PCIe SSDs used a proprietary form factor rather than the M.2 standard that went on to become the standard for client PCIe SSDs. So even though Apple's machines from 2013 through at least 2016 (depending on the model) included the fastest storage that money could buy at the time, those systems have been left behind as the NVMe storage market has matured from an exotic high-end novelty into the technology that's rapidly displacing SATA for mainstream computing.
This is where Mac accessory and upgrade specialist Other World Computing (OWC) comes in. OWC has offered several aftermarket SSDs in Apple's custom not-quite-M.2 form factor, culminating in the recent release of the Aura Pro X2 SSD. This is a modern high-end SSD with 3D TLC NAND and the latest Silicon Motion SM2262EN controller, with the reference M.2 PCB layout adjusted to fit Apple's form factor. The Aura Pro X2 is sold either as a bare drive, or in an upgrade kit that includes an external USB enclosure for the Apple original SSDs it replaces.
The Aura Pro X2 isn't OWC's first attempt to offer an upgrade for Apple PCIe SSDs, but it's the first one that does the job well. Their first Aura SSD hit the market back when Mac OS X didn't include a standard NVMe driver, so the Aura had to present a standard AHCI interface. Rather than use an outdated AHCI PCIe SSD controller comparable to the ones in the early Apple PCIe SSDs, OWC put two SATA SSD controllers and a RAID controller onto one card. This allowed OWC to provide a functional drop-in replacement that could offer higher capacities, but it was a big step backward in performance (and probably power efficiency, but we didn't get the chance to test it).
Apple eventually added a standard NVMe driver to MacOS, albeit after retiring upgradable internal storage from almost all of their product line. OWC responded with the Aura Pro X SSD, based on Micron 32-layer 3D MLC NAND and the Silicon Motion SM2260 NVMe controller. Unfortunately, Micron's first-generation 3D NAND and Silicon Motion's first-generation NVMe controller were both disappointing performers, so the Aura Pro X was again not a clear upgrade over the Samsung-based Apple original SSD.
Micron and Silicon Motion have since fixed their performance issues and the current generation of SSDs with 64-layer Micron 3D TLC and Silicon Motion SM2262(EN) controllers are serious competitors at the high end of the consumer SSD market, and a big step up from anything that was available in the 2013-2015 time frame. With the Aura Pro X2, OWC can now offer performance and capacity far beyond what Apple's factory-installed SSDs could provide.
The downside to the OWC Aura Pro X2 is that as it's a niche product, retail pricing is well above commodity M.2 SSDs. The Aura Pro X2 currently starts at 26¢/GB, when M.2 SSDs with the same hardware are retailing for just over half that price. The price disparity is even worse at 2TB, which may be the most important capacity for the Aura Pro X2 since Apple never offered a 2TB SSD in this form factor.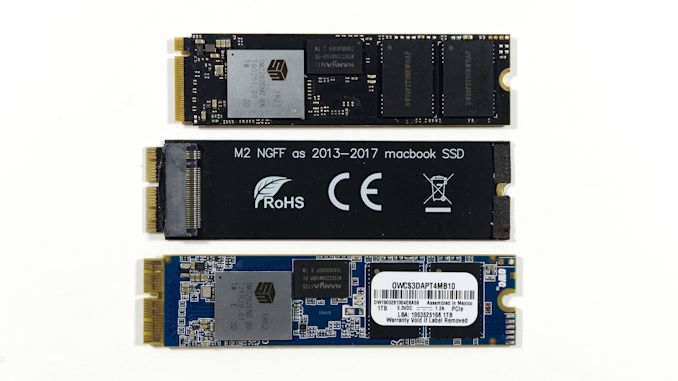 HP EX950 and adapter compared to OWC Aura Pro X2
OWC doesn't have a complete lock on this upgrade market. The Apple PCIe SSD form factor is a bit longer than M.2, so it's possible to use a standard M.2 NVMe SSD and a dirt-cheap passive adapter. In Apple's laptops, these adapters are just a hair too thick, so closing the machine back up completely leaves the bottom panel bulging slightly and puts pressure on the adapter and SSD connector. These connectors weren't designed to bear the weight of the machine, so there's some risk of a mechanical failure leading to an unreliable connection. However, I've been using one in my personal 13" MacBook Pro for several months with no trouble so far other than a bit of creaking in the bottom panel when there's too much pressure near the SSD.
OWC Aura Pro X2 Specifications
Capacity
240 GB
480 GB
1 TB
(960GB)
2 TB
(1920GB)
Form Factor
Apple custom, double-sided
Interface
NVMe 1.3 PCIe 3.1 x4
Controller
Silicon Motion SM2262EN
NAND
IMFT 64-layer 3D TLC
Sequential Read
2989 MB/s
3282 MB/s
3194 MB/s
3194 MB/s
Sequential Write
1208 MB/s
2432 MB/s
2488 MB/s
2488 MB/s
Power
Active
5.7 W
Idle
0.3 W
Endurance
150 TB
0.34 DWPD
225 TB
0.27 DWPD
450 TB
0.27 DWPD
900 TB
0.27 DWPD
Warranty
5 years
Retail Price
(drive only)
$109.99 (46¢/GB)
$159.99 (33¢/GB)
$249.99 (26¢/GB)
$599.99 (31¢/GB)
Since macOS has supported standard NVMe drives for over a year and a half, there's no need for the OWC Aura Pro X2's hardware to differ from typical M.2 SSDs in any way other than the physical form factor. The specifications are basically what we expect from a typical high-end M.2 NVMe SSD in today's market, but OWC's sequential IO ratings are a bit lower than the most optimistic numbers we see for M.2 drives. The 5-year warranty and ~0.3 DWPD endurance rating are normal for high-end drives. Aside from the form factor and price, the only thing that really stands out in the spec table is that OWC is using more overprovisioning than the the other SM2262EN drives we've encountered: 960GB for our review sample rather than the 1000GB or 1024GB usable capacities we've previously tested.
The layout of the Aura Pro X2 is very similar to M.2 SSDs with the SM2262EN controller. Apple's form factor is the same 22mm width as M.2 SSDs, and the extra 9mm length doesn't provide enough space to move around the major components, though some of the smaller passives have been rearranged. We're still looking at a double-sided drive, with two NAND packages and one DRAM package on each side. The Apple original SSDs we have on hand are actually more crowded with four NAND packages on each side, but the 64Gb per-die capacity of the Samsung 19nm MLC Apple was using back then is a far cry from the 256Gb TLC dies that now dominate the market.
Aura Pro X2 SSD Compatibility
Supported Models
MacBook Pro
Late 2013 to 2015
(MacBookPro11,x - 12,x)
MacBook Air
2013 to 2017
(MacBookAir6,x - 7,x)
Mac mini
2014
(Macmini7,1)
Mac Pro
2013
(MacPro6,1)
As a Mac-specific SSD, the OWC Aura Pro X2 demands a different testing procedure from our usual mix of Windows and Linux based test. We've still run it through our usual tests by putting the Aura Pro X2 in an adapter that lets it fit in M.2 slots on our normal desktop testbeds. We've also ported our Linux-based synthetic tests over to macOS with a few changes, and tested the Aura Pro X2 in two different MacBook Pro machines.
For those macOS tests, we're comparing against two Apple original SSDs and several current high-end M.2 NVMe SSDs used in an adapter. The Apple original SSDs are both Samsung designs, similar to their XP941 and SM951 OEM M.2 drives. The latter drive uses the same UBX controller as the Samsung 950 Pro, the first retail M.2 NVMe SSD, while the older Apple drive uses the UAX controller that only supports PCIe 2.0 speeds. Samsung is still using MLC NAND in their top of the line 970 PRO (more than two generations removed from the Apple SSDs), while the rest of the market has concluded that 3D TLC NAND is fast enough and much more affordable.
The newer SSDs included in this review all have a capacity advantage over the 128GB and 512GB Apple SSDs we are comparing against. In general, larger drives are faster because they have more NAND flash memory dies to use in parallel. However, since the older Apple SSDs use NAND with a much lower per-die capacity, they aren't as handicapped as their total capacity might suggest. Most of the performance improvements the newer SSDs provide come from controller improvements and from using NAND that is fundamentally faster on a per-die basis.