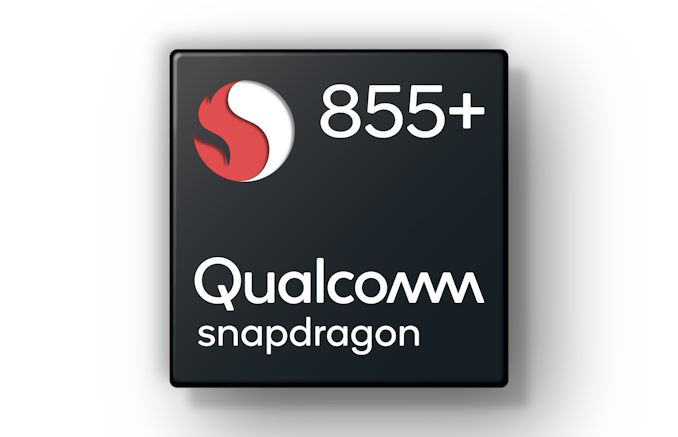 Today Qualcomm is announcing a new small refresh of the Snapdragon 855 SoC: the new Snapdragon 855+. In the past Qualcomm had the habit of sometimes refreshing their flagship SoCs in the middle of their product life and give them a small performance boost, probably the most known chip fitting this pattern was the Snapdragon 821 from a few years ago. The S835 never got an upgrade, however the S845 last year did get a higher bin variant which ended up in a few vendor's products, including the renamed Snapdragon 850 product that featured the same specifications.
Qualcomm Snapdragon Flagship SoCs 2019
SoC
Snapdragon 855

Snapdragon 855+

CPU
1x Kryo 485 Gold (A76 derivative)
@ 2.84GHz 1x512KB pL2

3x Kryo 485 Gold (A76 derivative)
@ 2.42GHz 3x256KB pL2

4x Kryo 485 Silver (A55 derivative)
@ 1.80GHz 4x128KB pL2

2MB sL3

1x Kryo 485 Gold (A76 derivative)


@ 2.96GHz 1x512KB pL2



3x Kryo 485 Gold (A76 derivative)




@ 2.42GHz 3x256KB pL2





4x Kryo 485 Silver (A55 derivative)




@ 1.80GHz 4x128KB pL2





2MB sL3

GPU
Adreno 640 @ 585MHz
Adreno 640 @ ~672MHz
Memory
4x 16-bit CH @ 2133MHz
LPDDR4x
34.1GB/s

3MB system level cache
ISP/Camera
Dual 14-bit Spectra 380 ISP
1x 48MP or 2x 22MP
Encode/
Decode
2160p60 10-bit H.265
HDR10, HDR10+, HLG
720p480
Integrated Modem
Snapdragon X24 LTE
(Category 20)

DL = 2000Mbps
7x20MHz CA, 256-QAM, 4x4

UL = 316Mbps
3x20MHz CA, 256-QAM
Mfc. Process
7nm (N7)
The new Snapdragon 855+ today closely follows this pattern: It's overall the same SoC as the Snapdragon 855, however Qualcomm is raising the clocks of the Prime CPU core from 2.84GHz to up to 2.96GHz, giving a 4.2% boost for single-threaded workloads.
Along the CPU boost, we also find that the GPU is receiving a larger 15% performance boost. As the Adreno 640 in the 855 was clocked in at 585MHz, the clock on the 855+ has to be around the 672MHz mark, which is an oddly familiar frequency of Adreno GPUs.
Qualcomm states that we should expect hearing about vendor devices using the new Snapdragon 855+ in the next few weeks. Last year, ASUS was the first vendor to announce the ROG Phone using a higher binned S845 around the same summer time-period, and now the company has confirmed that the ROG Phone II will be also the first to use the new S855+.
I'm also guessing that it's possible that Samsung's upcoming Note10 to be powered by the S855+ as I'm expecting the phone to come with a new Exynos chipset this time around, and the Snapdragon counterpart getting a small boost as well would also make sense.
Related Reading: