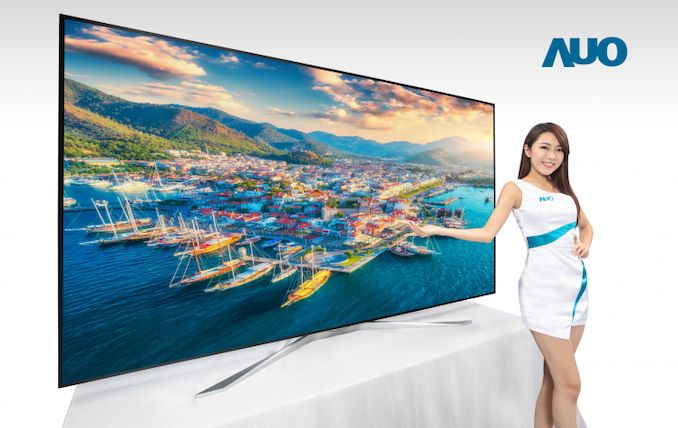 AU Optronics this week showcased a prototype of its most advanced 8K Ultra-HD display featuring an innovative full-area local dimming (FALD) backlighting solution and peak brightness of 2,000 nits. At present, the screen is a proof of concept and AUO does not make any promises regarding its commercial availability of this unit, but it might migrate into a consumer product in the future.
AUO's most advanced Ultra-HD ALCD TV display relies on an 85-inch panel featuring a 7680×4320 resolution and peak brightness of 2,000 nits. The device has a FALD backlighting with 1,024 zones, so contrast ratios supported by the monitor should be very high. Unfortunately the press release has no word about maximum refresh rate and other features, except that the 8K UHDTV prototype supports high dynamic range, but AUO does not disclose the exact type.
AU Optronics says that its 8K panel with a 1,024-zone FALD backlighting can be mass produced, but says nothing about its price or potential availability timeframe. Considering the fact that 85-inch 8K LCD panels cost a lot and FALD is very expensive in general, we expect UHDTVs based on AUO's 85-inch 8K panel with FALD to be extremely pricey. As for approximate ETA date, many makers of 8K televisions and panels plan to offer their next-generation products in time for 2020 Tokyo Olympics.
Related Reading
Source: AU Optronics