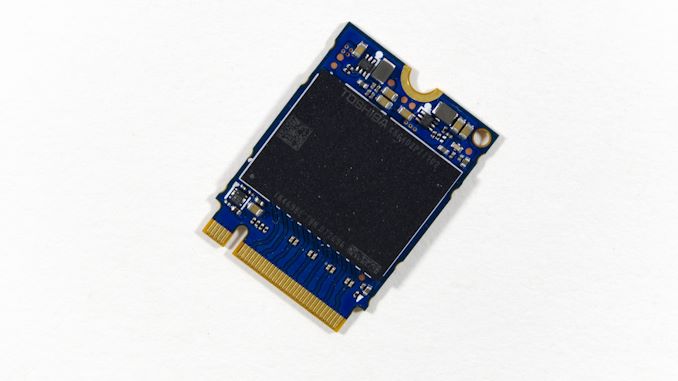 Editor's Note: Toshiba Memory is in the process this month of rebranding itself to Kioxia.
Toshiba's retail SSD lineup has fallen into obscurity and their acquisition of the Lite-On/Plextor SSD business won't change that significantly in the near future. However, they are still a major player in the client OEM SSD market where they have been doing interesting things. We have been impressed by the past two generations of their XG series high-end NVMe SSDs that pair leading-edge flash memory with a very power-efficient controller. Their entry-level client NVMe efforts have been concentrated around their BG series SSDs that are a complete SSD in a single BGA package (optionally mounted on a small M.2 card).
On the whole, these sort of small form factor SSDs have become increasingly popular with laptop and 2-in-1 tablet manufacturers, who are looking for an edge on size and power consumption, but still want the manufacturing advantage of on-card SSDs that can be easily swapped. Dropping a single-package SSD onto a removable card allows them to capture both benefits, with only a slight size penalty over directly soldering the SSD down. The end result is that these small SSDs are increasingly appearing in major laptops, such as Microsoft's Surface Laptop 3, and we don't expect it to stop there, as OEMs will increasingly turn to these small, highly integrated SSDs.
Within Toshiba's product lineup, the Toshiba BG3 was the first and only member of their BG series product line to get a retail counterpart, in the form of the Toshiba RC100. The newer BG4 isn't getting the same treatment, so Toshiba sampled the OEM drive itself to show off the major advances with this generation. That means the product we're reviewing today will be difficult for consumers to get their hands on except by buying the right laptop or tablet, but the BG4 is still important and worth a look because it shows where the client SSD market is headed.
Form Factor Evolution
When M.2 SSDs first came onto the scene for client/consumer computing, the market was split between SATA and PCIe versions, but almost everything was using the 22x80mm card size. Now, M.2 SATA is almost as dead as mSATA and PC OEMs are going all-in on NVMe. But they're not sticking with just the 2280 size; the shorter card sizes and even single-package BGA SSDs are becoming more common. 3D NAND flash memory is now dense enough that typical consumer storage capacities (1TB and less) can be achieved with a single stack of NAND dies. From there, it's not too much harder to move the controller die into the same package as well. It's not currently possible to deliver high-end performance in such small form factors due to thermal limitations, but even entry-level NVMe performance is a big step up from SATA or eMMC.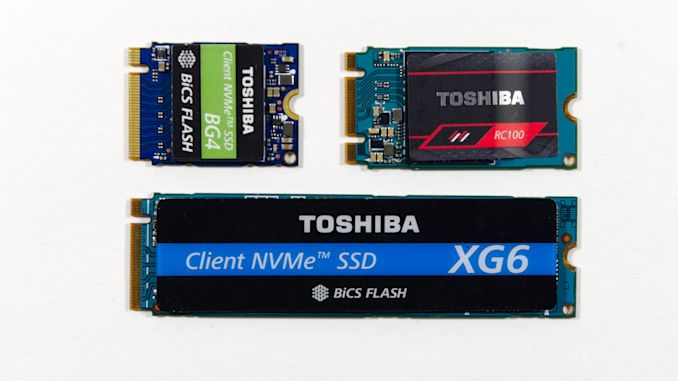 Form Factor comparison: BG4 (M.2 2230), RC100 (M.2 2242), XG6: (M.2 2280)
Smaller SSD form factors are an inconvenience to consumers looking for aftermarket storage upgrades, but for PC OEMs the advantages are compelling. Small M.2 modules or BGA SSDs allow tablets, ultrabooks, and 2-in-1 systems to use smaller motherboards and larger batteries. This trend has also led Toshiba to propose the new XFMEXPRRESS form factor for removable NVMe SSDs that are even smaller than M.2 2230 and take up only slightly more space than soldered-down BGA SSDs. Toshiba isn't alone in moving toward smaller SSD form factors; for example Marvell's next generation of client NVMe controllers are also aimed at lower power and small physical sizes rather than pursuing performance records.
It's usually not easy to figure out exactly which SSD an OEM is using in any given system (and that can change through a model's lifespan), but the BG4 has recently turned up in the Microsoft Surface Laptop 3 and Dell XPS 13 7390. At the moment, the BG4 seems to be a popular choice for similarly thin and light systems, and in some cases it may be the only user-upgradable component. Toshiba has well-established relationships with major OEMs and a track record of reliably supplying good SSDs at competitive prices. In this product segment, they have few serious competitors (Samsung and WD).
Toshiba/Kioxia BG4 SSD Specifications
Capacity
128 GB
256 GB
512 GB
1 TB
Form Factor
M.2 2230 or BGA M.2 1620
Interface
PCIe Gen3 x4, NVMe 1.3b
NAND Flash
96L BiCS4 3D TLC
Sequential Read
2000 MB/s
2200 MB/s
2300 MB/s
Sequential Write
800 MB/s
1400 MB/s
1800 MB/s
Random Read
200k IOPS
330k IOPS
390k IOPS
Random Write
150k IOPS
190k IOPS
200k IOPS
Power
(M.2 2230)
Active
3.4 W
3.6 W
3.5 W
3.7 W
Idle
5 mW
The BG4 is the most significant update in the history of this product line. It makes the switch from 64L to 96L TLC NAND, which enables a 1TB model for the first time. The controller underneath the stack of NAND flash dies has also been updated and now features four PCIe lanes instead of two. Together, these changes make the BG4 much more suitable for mainstream storage duties and help the BG series climb out of its low-performance/low-capacity niche. Given the small form factors, the BG4 still has a much stronger emphasis on low power than most NVMe products, and that prevents it from reaching the same performance levels as high-end consumer NVMe SSDs that use the much larger M.2 2280 card size.
Inside the BG4's single BGA component is a stack of 3D NAND dies and the controller die, but no DRAM. To mitigate the usual performance penalties of a DRAMless SSD, the BG4 uses the NVMe Host Memory Buffer (HMB) feature to give the SSD exclusive access to a portion of the host system's DRAM. This buffer isn't used to store any user data and instead is a cache for the drive's internal metadata: the mappings between logical block addresses used by software and the physical locations where the data is stored. When reading or modifying data already stored on the drive, it's much quicker for the SSD to look up the physical location of that data using a DRAM cache than to perform extra reads from the flash memory.
A mainstream SSD with its own DRAM usually has 1GB of DRAM for each 1TB of flash, but NVMe SSDs using HMB only allocate a few tens of MB of host DRAM. That's enough to cache mapping information for tens of GB of user data, which is large enough to cover most consumer access patterns. HMB primarily benefits random IO, and usually has a larger impact on writes than reads.
The Competition
The Toshiba/Kioxia BG4 is the first 1TB HMB-enabled SSD we have tested. We have previously tested the older 480GB Toshiba RC100 (retail counterpart to the BG3), and the 500GB HP EX900 that uses Silicon Motion's DRAMless SM2263XT NVMe controller. Western Digital's WD Blue SN500 is the retail counterpart to their SN520 OEM SSDs that compete directly against Toshiba's BG series, but at only 250GB our SN500 sample is simply too small to fairly compare against the 1TB BG4. Samsung's PM981(a) BGA SSDs are notable for including DRAM in addition to the controller and NAND flash, but it's hard to get review samples of Samsung OEM drives.
To round out our comparisons, this review also includes results from a mix of other SSDs in different product segments. Toshiba's XG6 sits above the BG4 in their client OEM SSD product stack, but it uses the same 96L TLC NAND flash memory. The rest of the drives are retail models, covering the range from high-end NVMe like the Samsung 970 EVO Plus down to the Crucial MX500 mainstream SATA SSD.
AnandTech 2018 Consumer SSD Testbed
CPU
Intel Xeon E3 1240 v5
Motherboard
ASRock Fatal1ty E3V5 Performance Gaming/OC
Chipset
Intel C232
Memory
4x 8GB G.SKILL Ripjaws DDR4-2400 CL15
Graphics
AMD Radeon HD 5450, 1920x1200@60Hz
Software
Windows 10 x64, version 1709
Linux kernel version 4.14, fio version 3.6
Spectre/Meltdown microcode and OS patches current as of May 2018