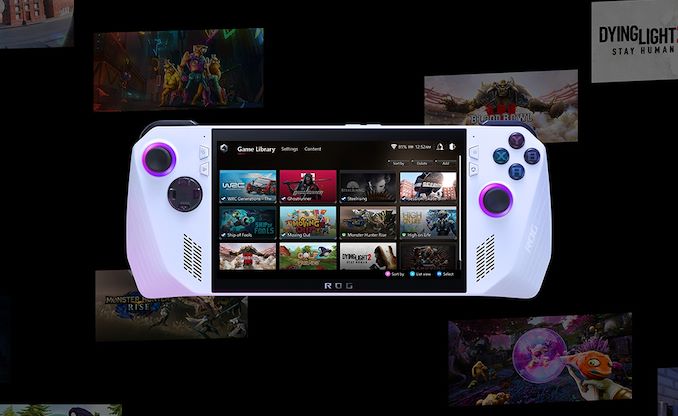 Asus this week started global sales of its ROG Ally portable game console. The Asus take on Valve's Steam Deck and other portables offers numerous advantages, including higher performance enabled by AMD's Ryzen Z1 Extreme processor, broad compatibility with games and latest features courtesy of Windows 11, and a Full-HD 120 Hz display. Furthermore, the handheld can also be turned into a fully-fledged desktop PC.
The top-of-the-range Asus ROG Ally promises to be a real portable powerhouse as it is built around AMD's Ryzen Z1 Extreme processor that uses the company's Phoenix silicon fabbed on TSMC's N4 (4 nm-class) technology. This configuration, which is similar to AMD's Ryzen 7 7840U CPU, features eight Zen 4 cores and 12 CU RDNA 3-based GPU that promises solid performance in most games on the built-in Full HD display.
To maintain steady performance for the APU that can dissipate heat up to 30W, Asus implemented an intricate cooling system featuring anti-gravity heat pipes, a radiator with 0.1 mm fins, and two fans.
Speaking of performance, it should be noted that those who want to enjoy ROG Ally games in higher resolution, with higher performance on an external display on TV can do so by attaching one of Asustek's ROG XG Mobile external graphics solutions, such as the flagship ROG XG Mobile with Nvidia's GeForce RTX 4090 Laptop GPU for $1,999.99, or the more moderately priced XG Mobile with AMD's Radeon RX 6850M XT for $799.99. Compatibility with eGFX solutions is a rather unique feature that sets it apart from other portable consoles and makes it a rather decent gaming PC.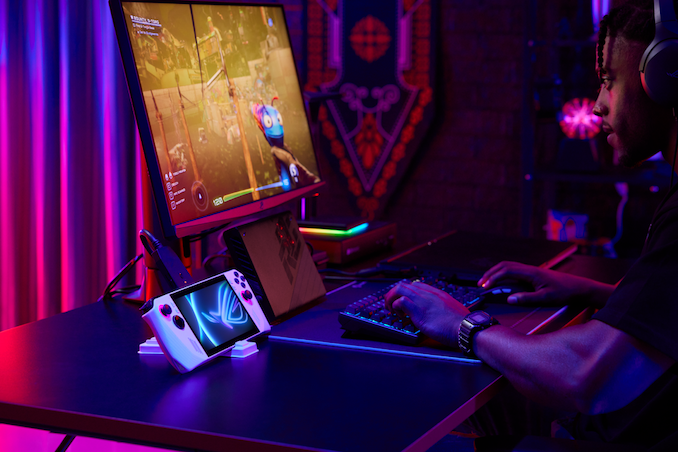 As for memory and storage, the ROG Ally features 16GB of LPDDR5-6400 memory and a 512GB M.2-2230 SSD with a PCIe 4.0 interface. Additionally, for users wishing to extend storage without disassembly, the console incorporates a microSD card slot that's compatible with UHS-II.
Another feature that makes ROG Ally stand out is its 7-inch display with a resolution of 1920x1080 and a maximum refresh rate of 120 Hz. To enhance gaming aesthetics, the console's display — covered in Gorilla Glass Victus for extra protection — uses an IPS-class panel with peak luminance of 500 nits and features Dolby Vision HDR support. Adding to the overal gaming experience, the ROG Ally also comes with a Dolby Atmos-certified audio subsystem with Smart Amp speakers and noise cancellation technology.
While the Asus ROG Ally certainly comes in a portable game console form-factor, it is essentially a mobile PC and like any computer, it is designed to deliver standard portable computer connectivity features. Accordingly, the console comes with a Wi-Fi 6E and Bluetooth adapter, a MicroSD card slot for added storage, a USB Type-C port for charging and display output, an ROG XG Mobile connector for attaching external GPUs, and a TRRS audio connector for wired headsets.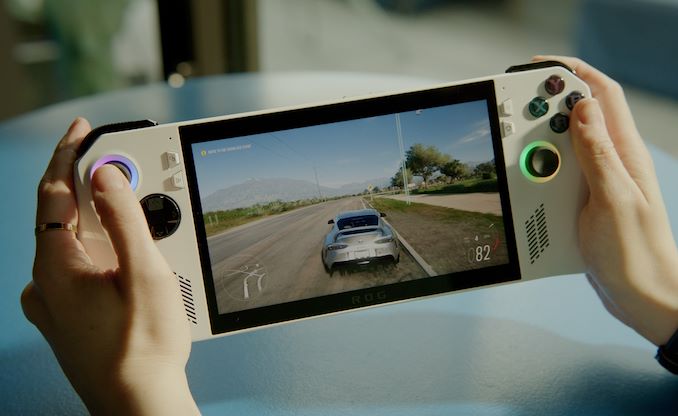 To make the ROG Ally comfortable to use, Asustek's engineers did a lot to balance its weight and keep it around 600 grams, which was a challenge as the game console uses a very advanced mobile SoC that needs a potent cooling system. Achieving a balance between device weight and potent SoC performance required a trade-off, so Asus equipped the system with a 40Wh battery, which is relatively small and lightweight. But with this battery, the ROG Ally can run up to 2 hours under heavy gaming workloads, as corroborated by early reviews.
This week Asus begins to sell its range-topping version of the ROG Ally game console based on AMD's Ryzen Z1 Extreme processor, which it first teased back in April and them formally introduced in mid-May. This unit costs $699in the U.S. and is available from BestBuy and from Asus directly. In Europe, the portable console can be pre-ordered presumably for €799, whereas in the U.K. it can be pre-ordered for £899. Later on, Asus will introduce a version of the ROG Ally based on the vanilla Ryzen Z1 processor that offers lower performance, but is expected to cost $599.
Source: Asus