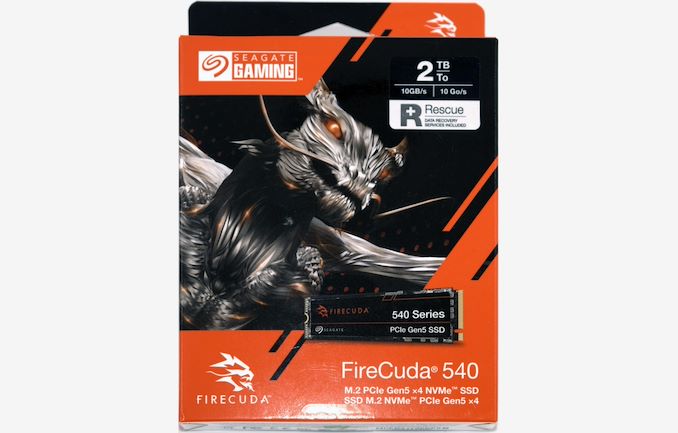 Flash-based computer storage has been improving in speed and capacity at breakneck pace over the last decade. M.2 NVMe SSDs have almost completely replaced SATA drives for primary storage capabilities in new systems. While small form-factor machines are continuing to rely on PCIe Gen3 SSDs for an optimal balance of performance and thermal solution sizing, Gen4 SSDs - particularly of the DRAM-less variety - are slowly starting to break into that segment. However, the gaming segment in the consumer market has fueled the need for speed and created a demand for PCIe Gen5 SSDs.
Phison's E26 controller has been ruling the roost in this area, with almost all currently available Gen5 SSDs being based on it. Today, Seagate is announcing the availability of the FireCuda 540 PCIe Gen5 M.2 2280 NVMe SSD. With its PCIe 5.0 x4 interface, there is a marked increase in sequential access speeds over the previous flagship (FireCuda 530). The addition of optimizations for DirectStorage in the firmware makes it an ideal candidate for gaming enthusiasts.
The drives in Seagate's FireCuda SSD series have typically been based on Phison controllers using custom firmware (with the company's preferred term being 'Seagate-validated'), and the FireCuda 540 is no different. It is based on Phison's PS5026-E26 using the latest 3D TLC NAND (Micron's B58R 232L).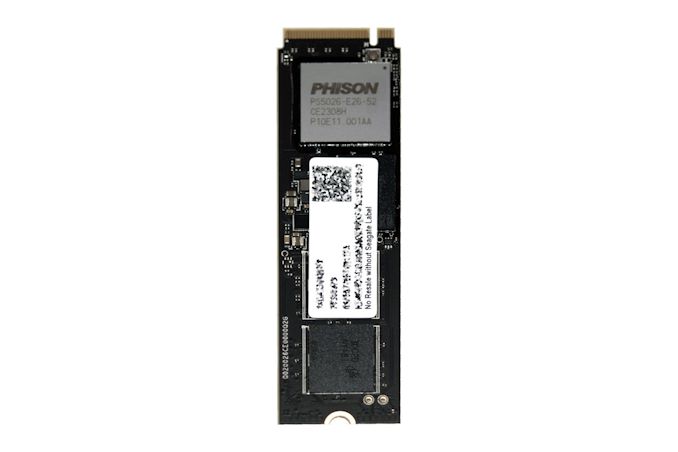 FireCuda 540 : Phison E26 Gen5 Controller + Micron B58R 3D TLC NAND
Micron's B58R 232L 3D TLC NAND can operate at up to 2400 MT/s, and these transfer rates have been used by some Gen5 SSD vendors to obtain bragging rights for the highest sequential access bandwidth numbers (in the range of 12 - 14 GBps). It appears highly likely that Seagate has decided to operate them at lower speeds and limit the overall maximum sequential rates to around 10 GBps. This should help in both the thermals and power consumption aspects.
Unlike other flagship M.2 PCIe 5.0 x4 NVMe SSDs, the FireCuda 540 does not come with a heatsink option. Rather, the company makes it a point to mention that an external cooling solution is necessary for optimal performance. With motherboard vendors offering their own SSD cooling solutions compatible with their board layout, and third-party SSD cooling solutions also in the market, this is probably a good move to keep pricing low.
Seagate is opting to release only 1 TB and 2 TB versions of the FireCuda 540 for now.
Seagate FireCuda 540 SSD Specifications
Capacity
1 TB
2 TB
Controller
Phison PS5026-E26 (PCIe 5.0 x4)
NAND Flash
232L 3D TLC NAND (Micron B58R)
Form-Factor, Interface
Single-Sided M.2-2280, PCIe 5.0 x4, NVMe 2.0
Double-Sided M.2-2280, PCIe 5.0 x4, NVMe 2.0
Sequential Read
9500 MB/s
10000 MB/s
Sequential Write
8500 MB/s
10000 MB/s
Random Read IOPS
1.30 M
1.49 M
Random Write IOPS
1.50 M
Pseudo-SLC Caching
Supported
TCG Opal Encryption
Yes
Power (Active / Standby)
10 W / 144 mW
11 W / 144 mW
Warranty
5 years (with 3 year DRS)
Write Endurance
1000 TB
0.55 DWPD
2000 TB
0.55 DWPD
MSRP (non-heatsink)
$180 (18¢/GB)
$300 (15¢/GB)
Other than DirectStorage optimizations, another key update seems to be the availability of hardware-based TCG Opal Encryption (that was noticeably absent in the FireCuda 530 at launch). The DRAM and flash industry is in one of the troughs of their usual pricing cycles - so this is good news for end consumers (not so much for the flash vendors). At around $150 / TB for the 2TB model, there is nothing to complain about - but do note that this doesn't include a cooling solution (which is mandatory if one is investing in a Gen5 SSD).
Source: Seagate