When we're not up to our ears in lab research, we - the European branch of AnandTech - like to increase our knowledge of subjects in some classier ways. For example, by traveling down to Cannes to cover VMware's first VMworld conference in Europe, taking place in the palais des festivals, especially known for its annual hosting of the film festival. The conference hosted over 4500 visitors and 96 exhibitors, and tons of hour-long sessions were held throughout the 3-day conference (26th - 28th of February).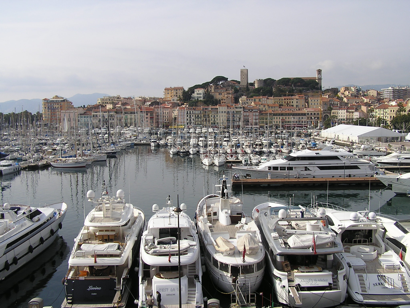 A view of Cannes' harbor from the balcony of the palais.
Our interest for this mostly software-related conference stems from the technology's amazing potential in the business IT-market, which is a subject we definitely don't want to keep from our readers.
A bit of info on VMware may be interesting at this point, so here's a quick rundown. Celebrating its 10th anniversary in 2008, VMware employs over 5000 people worldwide in 54 offices, and offers its virtualization services to over 100.000 customers. It's easily the biggest player in the field at this point, and is still working on strengthening that position through partnerships with many of the big hardware manufacturers.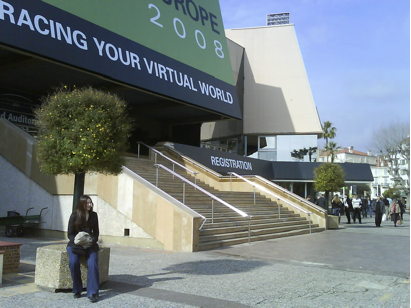 Yours truly eagerly awaiting the start of the conference…
Virtualization has come a very long way in the past couple of years, and VMware's efforts to push this technology into every segment of the business IT world has encouraged many companies to start experimenting with it. Thanks to that, many new ways have been discovered to integrate virtualization in a way that makes the environment even more flexible, and some of those interesting new takes were displayed at VMworld. In this article, we've bundled together coverage of some of the items we saw, summarized here:
IBM breaks a Microsoft Exchange performance record with the use of ESX

BEA rocking the Java world with LiquidVM

Parallels offering their own take on virtualization with a suite of products for several platforms

Richard McDougall offers some insights on running databases in a virtualized environment
We've tried to cover as many bases as possible, but the vast amount of subjects made complete coverage impossible. Definitely check out Johan's IT blogs and article for his experiences, though. Now let's take a closer look at the above items.