Tyan: Eight-socket monster, 4U blade, and "Flexblade"
With the current "server consolidation courtesy of virtualization" trend, memory capacity and power consumption is the key to success. Tyan agrees, and shows off their S4989WG2NR: 32 DIMM slots are available on this four-socket motherboard, which can cope with the 16 cores of four Opteron 23xx CPUs. We were quite surprised when Yifang Cheng told us that this board is also targeted at the workstation market. Yes, for those of you that want the ultimate workstation board, you get two PCI-E x16 and two PCI-E x8 slots to build a workstation with SLI workstation cards. You can also connect up to eight SAS disks and six SATA disks to this powerhouse.
For the few that really need more CPU power, there is the Tyan Tank TN27, which uses a S4985G3NR3 board. It seems like a normal quad-socket board, but it features a special PCI-E connector upon which you can stack another quad-socket board.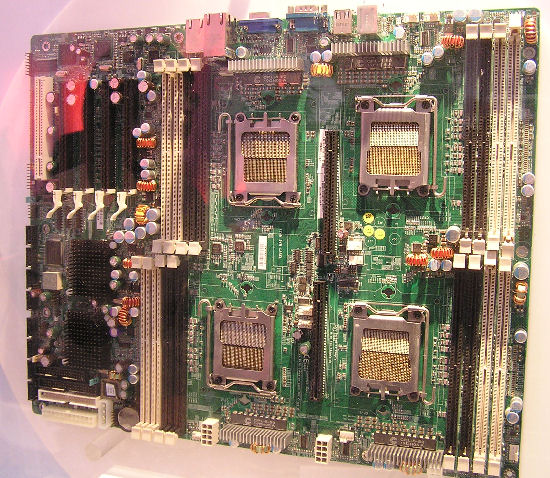 This allows Tyan to offer an eight-socket server, which can use up to 32 of the newest Barcelona CPUs. The TN27 reminds us of Sun's 2U x4450 (which uses Xeons instead), but the latter is a bit more elegant as it is easier to add DIMMs and CPUs.
Supermicro's Twin was a huge success, especially in the HPC world. The Twin can be found datacenters of countless universities. Tyan, now part of Mitac, decided this market was getting too big for Supermicro alone, so now they offer two alternatives to Supermicro's Twin. The most impressive one is the AMD quad-core based Tyan Tank GT28, which supports two quad-core Opteron 23xx CPUs per node.
A central (1000W) PSU powers both nodes, similar to the way the Supermicro Twin works. Tyan tries to outdo Supermicro by offering 16 (!) DIMMs per node (Supermicro offers eight), four gigabit ports per node (Supermicro has two), and SAS disks are possible (Supermicro only supports SATA). The Intel based "Double 1U" is a bit more modest with only one socket per node. Tyan somehow is able to get round the six DIMM limitation of the 5100 "San Clemente" chipset: the Tyan GT 24 supports eight DDR2 slots per node. However, only two Gigabit Ethernet ports are available.
The goal of this server is to offer a low power web server. This dual 1U only has a 600W PSU - that's only 300W per node.
Tyan also has a few original blade chassis. We heard that Tyan produces some of IBM's blades, so it seems that they have a lot of experience in the market. The same boards that were used in the Double 1U can also be found in a 4U blade form, which find a home in the Tyan FX71 chassis.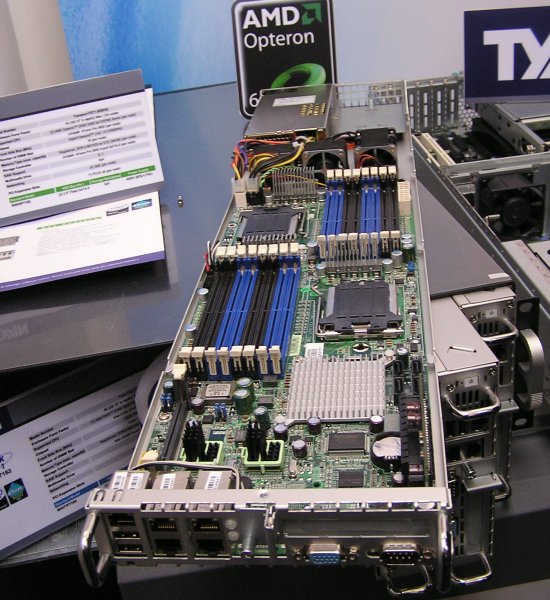 The FX71 can contain up to 10 blades. That works out to 80 cores in a 4U package, which is incredibly high density. This could be an interesting solution for a rendering farm. The version with dual Opteron 23xx CPUs only allows 68W CPUs. Considering that each individual blade is only 1.8 inch (or about 4.5 cm) wide, using low power CPUs is a good move. Don't put this rendering farm under your desk though, as it is cooled by 15000 RPM (!) fans. Add some wings and this thing can fly….
If you must have your very own quiet rendering farm and workstation, consider Tyan's Flexblade, also called a "technical workgroup computing platform". This is an evolution of Tyan's famous Personal Super Computer (PSC). You can insert either two quad-socket nodes with a dual-socket node or five dual-socket nodes. The Flexblade allows you to put the blades in a kind of RAID mode. One blade is then a hot spare and will not be used until one of the other four nodes dies.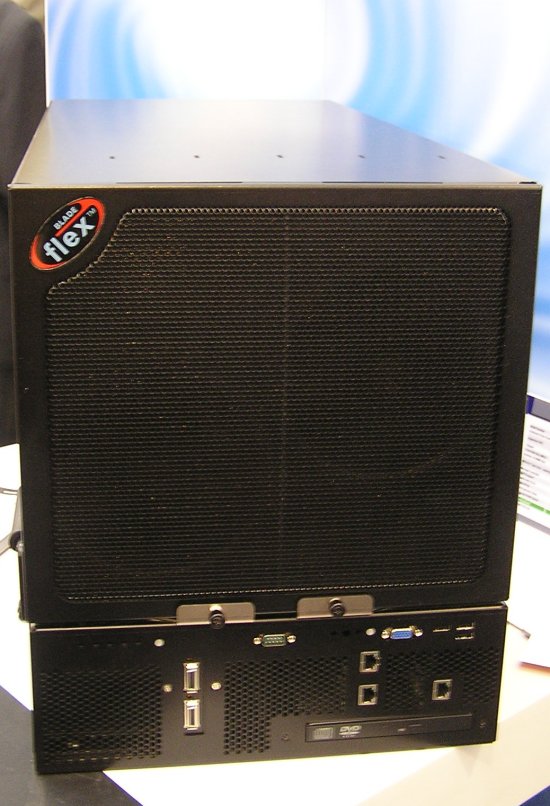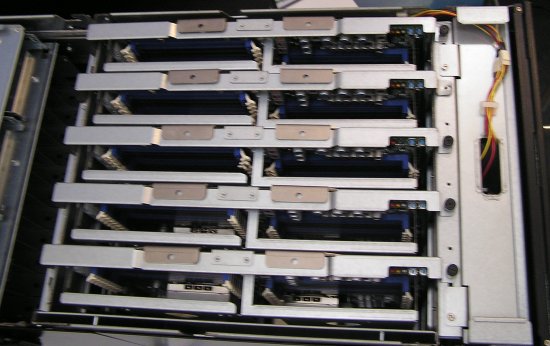 Each node has a PCI-E x16 slot, supporting one high performance video card per node.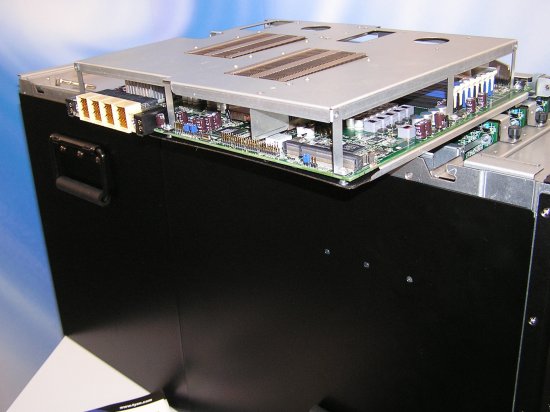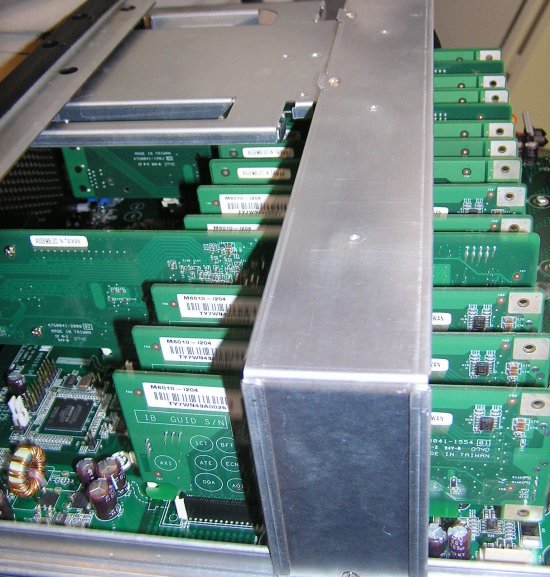 Each blade is connected to the backplane via a PCI-E connector. This connects to a PCI-E Infiniband or network card located in the lower end of the chassis (see the picture above). Each of these PCI-E cards then connects to an uplink card that offers the two external Infiniband and/or Gigabit ports.