Supermicro: the quiet low power blade
Supermicro's Twin got an update: it is now available with the newest Stoakley chipsets and can make use of 1.5V FBDIMMs, which lower the power consumption per DIMM from 15W to 12W. However, the focus was on Supermicro's Blade products. CERN, who is testing its latest and greatest Large Hadron Collider, has chosen to upgrade its datacenter with 210 Supermicro Superblades. The LHC is the largest and highest-energy particle accelerator in the world, with work being done on a "Grand Unified Theory". That is a pretty exciting application for a blade server.
This success has clearly inspired Supermicro as it has already improved its Superblade. The newest blade chassis can take 14 instead of 10 blades and consumes much less power. This was clearly demonstrated by the Superblade running in Supermicro's booth. At relatively light load, the blade server could hardly be heard and the airflow was cool and very light. We made this clearer by holding a napkin at the back of the server as you can see in the picture below. The configuration at CeBIT was a bit unrealistic of course as there were only two blades running under light load, but still most 1U servers we have in the lab produce a much stronger and louder airflow just to power one server. The Supermicro SBE-714D-D28 made an excellent "tuned for low energy consumption" impression on us. Of course, nothing beats accurately measured numbers in our independent lab….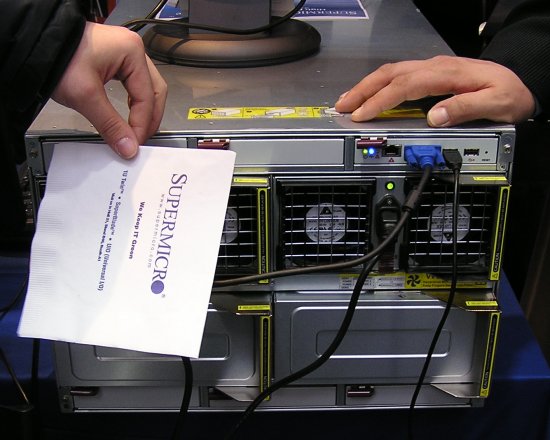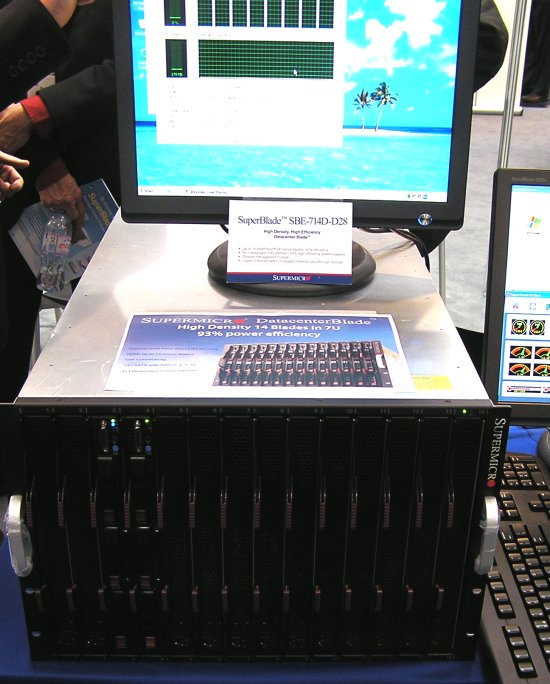 The Superblade SBE-714D-D28 is able to keep power consumption relatively low for a high performance enterprise blade chassis thanks to highly efficient fans, 93% efficient 1400W PSUs, and the Intel 5100 chipset that allows Supermicro to use DDR2. With 10 Blades, the enterprise blade should be quieter than 72 dB. We have to admit, though, that using noise levels to represent power requirements is a very vague way of doing things.
If this high performance enterprise blade is still too loud for you, Supermicro offers the Office Blade that makes less than 50 dB noise. Using 10 blades per chassis and low voltage Xeons allows for even lower power consumption.