Storage for Video editing
AIC/T-win/X-store had a few interesting storage solutions, but the AIC XJ-SA12-212R was the most original one. The SAS JBOD enclosure has a small PCI Express board or target adapter that connects directly to a PCI express card (host adapter) in your server board.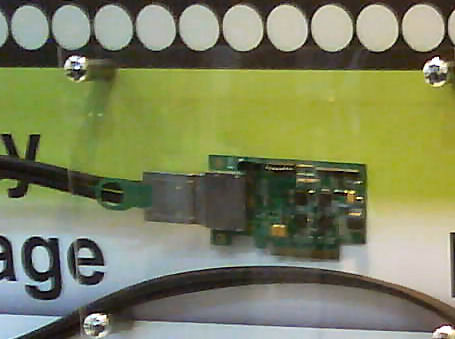 Using a PCI-E x8 card, the storage enclosure should be able to stream up to 2GB per second (or 20 Gbps).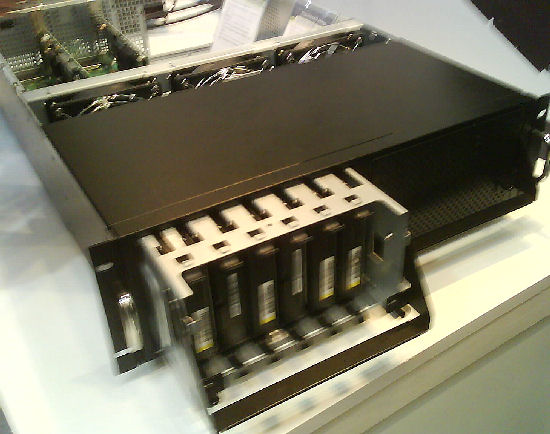 Traditionally, JBODs are connected via an Infiniband connector, which requires quite a bit of conversions from one protocol to another. With the AIC XJ-SA12-212R, latency should be lower as you get end-to-end PCI Express all the way to the drives. The enclosure consists of two 6-disk HDD bricks that are relatively easy to remove and transport. AIC believes that this kind of enclosure is ideal for the video editing people who like to carry their data from the filming location to the editing location. This is the faster, larger, and heavier version of your average portable disk drive.
Other storage tidbits
Promise, which has been focused on the low cost ATA and SATA market, has finally produced its own SAS controllers. Four different SuperTrak controllers have128MB to 256MB data cache onboard and can be equipped with a 72-hour battery backup unit (BBU). Each card has an x8 PCI-E interface and features RAID 5 and RAID 6 support. The black box standing up in the following picture is the BBU.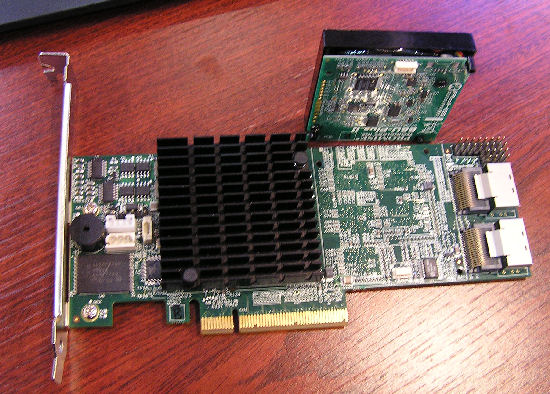 Seagate's newest Cheetah drives (3.5" 15,000RPM) are now also available as 450GB drives. Atto Technology showcased their 8Gbps Celerity Fibre Channel host bus adapter (HBA). Fibre channel is thus getting ready to double the maximum bandwidth once again.
Thecus - founded only a few years ago (2004) - showed off the N5200Pro, an SMB NAS device that can also be turned into an iSCSI device (running a Linux iSCSI target but of course compatible with MS' iSCSI initiator). You can also combine this storage device with an IP camera.
NAS devices for SMBs have disappointed many people, as most of them are incredibly slow when you want to perform a backup. Despite being tested with a rather sequential access pattern, you get a meager 20-25 MB/s. Considering that these devices are equipped with more than one modern SATA drive, have a gigabit interface that is capable of 110 MB/s, and even our 2.5" LaCie portable USB disk can read data faster than that, this is simply ridiculous. Thecus promises that this should not be the case with the N5200Pro as the Mobile Celeron 1.5 GHz inside should be powerful enough to offer much better data rates. The N5200Pro is capable of RAID 0, 1, 5, 10 and even RAID 6. Hot spares are also supported.