I/O Meter Performance (Cont'd)
Next, we test with sequential read and writes. Some storage processors (For example Netapp) write sequentially even if the original writes are random, so it is interesting to see how the disks cope with a mixed read/write scenario.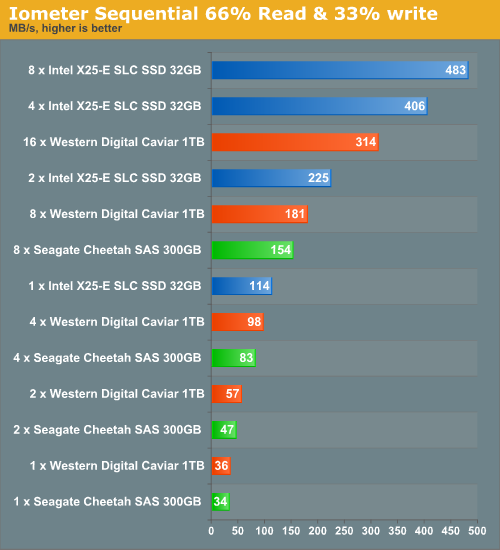 Where four SAS disks could read almost as fast as eight SATA disks, once we mix read and writes the SAS disks are slightly slower than the SATA disks. That is not very surprising: both the SAS disks and SATA disks use four platters. That means that the WD 1TB disk has a much higher data density, which negates the higher RPM of the SAS drive. Since the accesses are still sequential, areal density wins out.
As we have stated before, the SSD are especially attractive for mail and OLTP database servers. The real test consists mostly of random writes and reads. Typically, there are about twice as many reads as writes, so we used a 66% random read and 33% random write scenario to mimic OLTP database performance.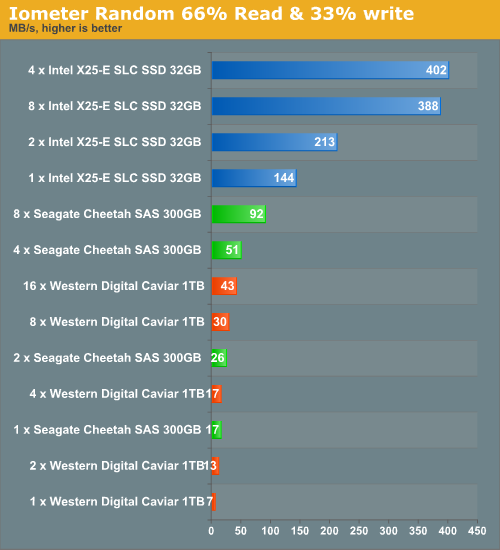 The superiority of the Intel SSD drives is simply astonishing. Even eight of the fastest SAS drives are not enough to keep up with one (!) SLC SSD drive. The high seek time of our Western Digital (8.9 ms) also kills performance: 16 drives are slower than four 15000RPM SAS drives. The eight drive score of the Western Digital setup gives us an idea of how many SATA drives you need. It will take about 26-30 SATA drives to get the performance of eight SAS drives… and it will probably take about 40 SATA drives to beat one SLC SSD disk! The more your applications read and/or write randomly, the worse the "get a lot of cheap SATA spindles" plan becomes.
Did you notice something weird in the results? Good, we are glad you are paying attention :-).We'll explain this once we get to the RAID-5 tests. No? Get a good cup of coffee and look again at the benchmark chart...