RAID 5 in Action
RAID 0 is good way to see how adding more disks scales up your writing and reading performance. However, it is rarely if ever used for any serious application. What happens if we use RAID 5?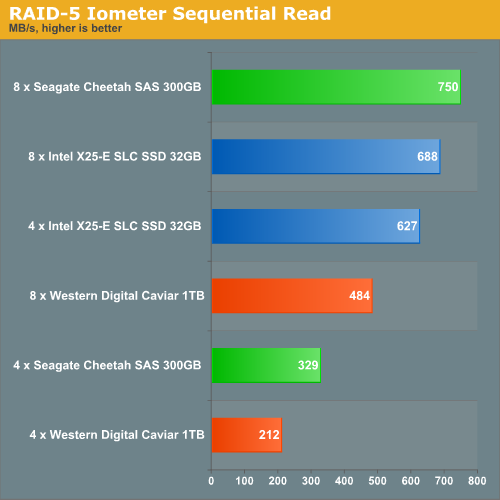 We see a picture very similar to what we saw with our RAID 0 numbers. The SAS protocol is more efficient than the SATA interface. Four SLC SSDs already come close to the highest bandwidth that our Adaptec HBA is capable of extracting out of SATA disks. Add four more and you bump into a 700 MB/s bottleneck. At first, our eight drive results look weird, as they are more than twice as fast as the four drives results. In the case of four drives, our controller will write three striped blocks of data and one parity block on our RAID array. With eight drives, we are striping seven blocks and we only have to write one parity block. So we can expect a maximum scaling of 2.3 (7/3), which explains the "the better than doubling" in performance.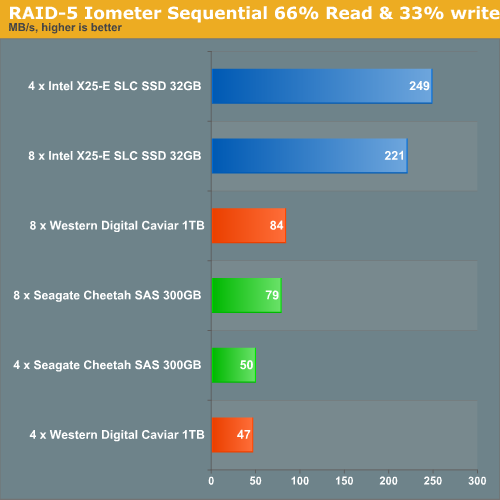 Once we interleave some writing with reading, something remarkable happens: eight SLC SSDS are (slightly) slower than four are. We have no real explanation for this, other than that this might have something to do with the choices Adaptec made when writing the firmware. We tried out the Areca 1680 controller, which uses the same controller (Intel Dual-core IOP348 1.2GHz) but with different firmware.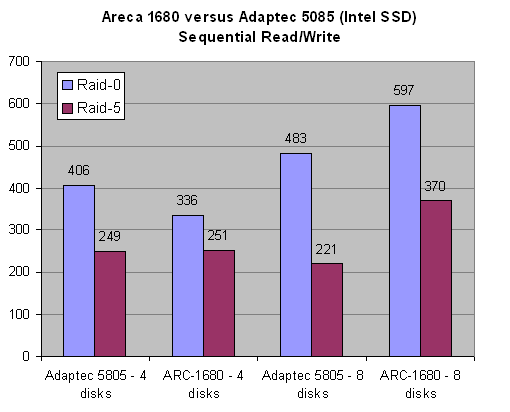 The Areca 1680 controller is almost 20% slower with four SLC SSD drives in RAID 0, but scales well from four to eight drives (+78%). In comparison, the Adaptec controller is only 19% faster with an additional four drives. In RAID 5 the difference is even more dramatic. Adding four extra drives (for a total of eight) leads to a performance decrease on the Adaptec card, while there is a decent 47% scale up in performance in the same situation on the Areca 1680. Thus, we conclude that is likely that the Adaptec firmware is to blame. We used both the 1.44 (August 2008) and 1.46 (February 2009) firmware, and although the latest firmware gave a small boost, we made the same observations.