Introducing the Compal NBLB2
I don't know about the rest of you, but I've been wanting to get my mitts on a Compal notebook for review for a while. Compal has had essentially this same chassis on the market for years, periodically updating and refreshing the components as new hardware became available, but reviews of this line have been scarce. It wasn't until we got in touch with CyberpowerPC and let them know how difficult it's been to secure one that they sent us a review unit.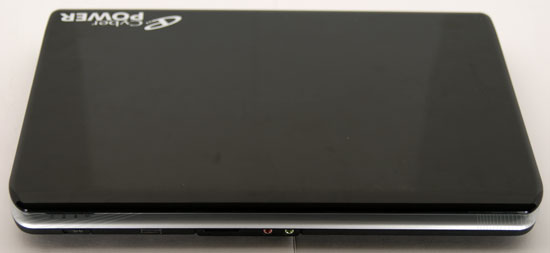 And what's not compelling about it? We know there's a demand for 15.6" notebooks with 1080p screens and reasonably powerful graphics, and this Compal model has generally been reasonably priced across the different vendors (much less across generations of hardware). So what is our review unit packing?
Compal NBLB2 Specifications
Processor
Intel Core i7-640M
(2x2.8GHz + HTT, 32nm, 4MB L3, Turbo to 3.46GHz, 35W)
Chipset
Intel PM55
Memory
2x2GB DDR3-1333 (Max 2x4GB)
Graphics
AMD Mobility Radeon HD 5650 1GB GDDR3
(400 Stream Processors, 550MHz core clock, 1600MHz effective memory clock)
Display
15.6" LED Glossy 16:9 1920x1080
(AU Optronics AUO10ED Panel)
Hard Drive(s)
500GB 7200 RPM
(Seagate Momentus 7200.4)
Optical Drive
DVD+/-RW Drive
Networking
Atheros AR8131 PCIe Gigabit Ethernet
Realtek RTL8191SE 802.11b/g/n
Bluetooth 2.1+EDR
Audio
Realtek ALC272 HD Audio
Stereo speakers
Headphone and microphone jacks
Battery
6-Cell, 11.1V, 57.72Wh battery
Front Side
Wireless switch
IR port
Card reader
Microphone jack
Headphone jack
Left Side
Kensington lock
USB 2.0
Exhaust vent
Ethernet jack
D-SUB
HDMI
Right Side
3x USB 2.0
Optical drive
AC adapter
Back Side
-
Operating System
Windows 7 Home Premium 64-bit
Dimensions
14.84" x 10.04" x 1.06"-1.48" (WxDxH)
Weight
5.95 lbs
Extras
2MP webcam
Fingerprint reader
Flash reader (MMC, SD/Mini SD, MS/Duo/Pro/Pro Duo)
USB charging
Warranty
1-year limited warranty
Pricing
Starting at $945
Priced as configured: $1,112
Our review unit comes to us equipped with Intel's fastest dual-core mobile chip, and our testing has shown that the Core i7-640M's nominal 2.8GHz stock clock and blistering 3.46GHz Turbo clock allow it to trump the entry-level i7-720QM in all but the most heavily threaded tasks. Note that this chip is a $134 upgrade off of the standard and still reasonable Core i5-560M, and represents the biggest jump in price for our review configuration. You can upgrade to a quad-core chip, too, but we're not entirely certain how well this chassis would cope with the increased heat dissipation and it would most certainly have a catastrophic effect on battery life.
By now the rest of Arrandale and the PM/HM55 platform should be old hat. Cyberpower ships the NBLB2 with 4GB of DDR3 standard, but what we're really interested in is the AMD Mobility Radeon HD 5650. This wouldn't be the first time we've tested the chip, not by a longshot, but it's actually going to be the first time our testing platform (updated months ago) is going to see a 5650 that isn't encumbered by a slow AMD mobile processor, low stock clock, or worse, both. As a result, the 5650 is going to get to stretch its legs here. At 550MHz it's not running at the fastest spec clock AMD defines for this particular chip (that would be the HD 5730, clocked 100MHz higher), but it's not the brutally slow 450MHz we saw before either.
The hard drive in our review unit is one you should all be familiar with by now: the Seagate Momentus 7200.4, a 500GB 7200-RPM hard drive that seems to have become the de facto standard for all industry players large and small. It's likewise coupled with a bog standard DVD+/-RW drive.
That leaves the other highlight: Compal doesn't ship this notebook with anything but a 15.6", 1080p screen. It has been increasingly our experience that these high-pixel-density screens offer substantially improved viewing angles, backlighting, and overall quality than the usual cheapo 1366x768 panels. Hopefully our testing will bear that out again, but subjectively the panel is very attractive.