Powerline Networking Products:

First off, the updates on the powerline front. In addition to the single port Atheros 7400 based XAVB5001 500 Mbps powerline kit (which is already selling in Europe, but is yet to reach North American shores), we are also getting a four port version (the XAVB5004). The four port version is slated to cost just $10 more than the single port version at $169.99. With no other powerline silicon vendor having production ready 500 Mbps silicon, the AR7400 continues to get used here.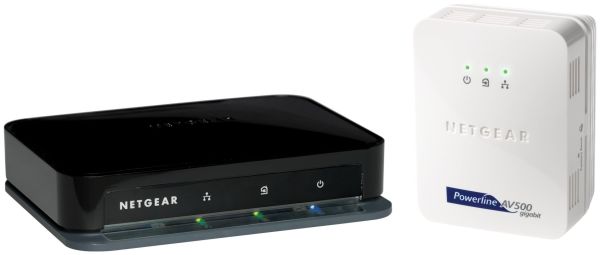 XAV5004: 4-port Powerline AV 500 Adapter
Wireless Networking Products:

Netgear is also making a serious push towards satisfying the needs of service providers such as Comcast and AT&T by providing a unified cable / DSL modem / router / powerline combination products in the CG3202 and DGND3700. While the latter (DSL modem + router) is a definite retail product, it is not clear whether the cable modem + router combo will make it to the retail channel.

The WNHDB3004 3DHD networking product is a groundbreaking product, but many people do not realize the presence of an interesting technology (4x4 MIMO over Wi-Fi) behind it. When taking plain throughput into consideration, or even over small distances (like, in a single bedroom apartment), the unit probably doesn't have the 'wow' factor going for it (it just performs as good as ordinary 802.11n Wi-fi). The strengths really start to show when going over 300ft or more. Here, the QoS provided by the unit has to be seen to be believed. The product is powered by silicon from Quantenna Communications (we talked to them briefly at CES Unveiled) and we were promised even more powerful silicon with sustained rates of upto 600 Mbps soon. The unfortunate aspect of this product is that it is usable for only video presently (UDP transmission).

The show stealer for Netgear was obviously the WNDR3800 model with dual band GbE using a 680 MHz MIPS processor at its heart. There are a host of features such as the Netgear Genie, Clear Channel Selector and ReadyShare over-the-internet access already explained in great detail on multiple other sites. The intersting scoop we have that is not available anywhere else is the fact that the Zixi Video Operating System is available only on this router at the transmitting end. More details about Zixi will be covered in the NTV 550 section.

WNDR3800: N600 Wireless Dual Band Gigabit Router—Premium Edition
Netgear also introduced a 3G / 4G modem / router combo with support for HSPA+ / LTE. The internal modem modules are from Sierra Wireless. There is no out-of-the-box support for WiMax, but that can be easily solved with the help of many available USB dongles.