ASUS P8Z68-V PRO: Overview
This board from ASUS is a great all-round performer, compared to the P67 boards we have reviewed—space for tri-GPU setups, six fan headers with good OS fan controls, eight SATA ports, six with RAID 0/1/5/10, Intel gigabit Ethernet and it performs well in our benchmark suite. The goods bundled in the box aren't the best we've seen, especially for an expected retail price of $210. But this is a Z68 board—the seemingly logical progression Intel have taken to combine the best bits of P67 and H67, in terms of overclocking. It's thanks to software solutions such as LUCIDLOGIX's Virtu that we can harness both the integrated GPU and discrete GPUs for different work loads—I detail my experiences with Virtu in this review.
ASUS P8Z68-V PRO: Visual Inspection
A quick look at the P8Z67-V PRO board and you might be joining me in thinking it looks almost identical to the P8P67 PRO motherboard. The blue, black and grey livery is still here, with those blue wavy heatsinks covering up the 12 phase CPU and 4 phase iGPU power delivery—unlike other boards, these aren't joined by a heatpipe, and the larger heatsink has a pretty substantial plate connecting the ends on the back of the board.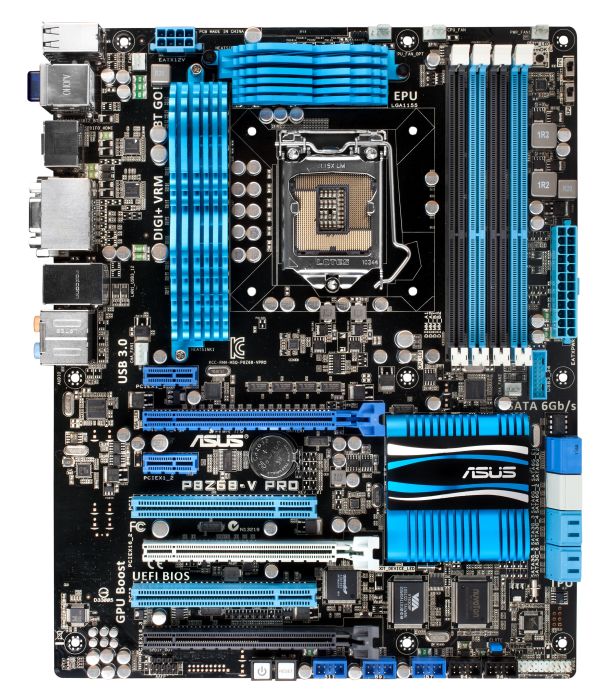 Around the socket itself, there is one 4-pin chassis fan header near the PCIe 1x, one PWR 3-pin near the 12V CPU power connector, and two CPU fan headers (one 4-pin, one 3-pin) to the top right, which should cover any all-in-one cooling solution with a dual fan and water pump arrangement. Unlike some other Cougar Point motherboards, ASUS have located the PCH to below the DIMM slots, under a large flat heatsink which gets quite warm to touch under normal operation.
Alongside the DIMM slots we have another 3-pin PWR fan header in the top right, just above ASUS' EPU and TPU switches, which activate their Energy Processing Unit and TurboV Processing Units respectively, for lower power usage or automatic overclocking. Enabling both could lead to system instability, however. Underneath these, beyond the 24-pin ATX power connector is a a 3-pin chassis fan header and the USB 3.0 19-pin header. As this is placed here, you would assume ASUS are thinking everyone will be using this header to power a USB 3.0 bracket in the front of the case, rather than the rear. But the supplied USB 3.0 bracket is designed for the rear of the board and doesn't stretch that far, especially over a dual slot GPU should one be in use.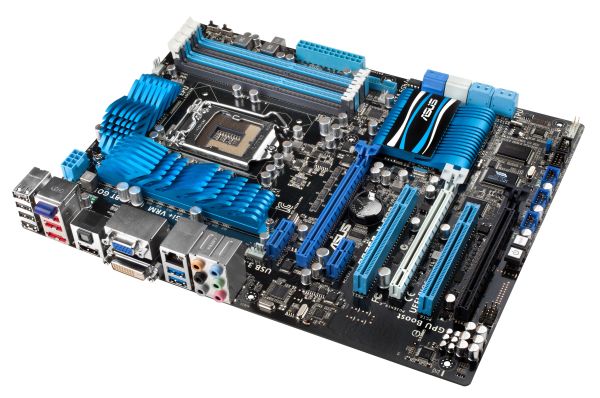 The SATA ports are similar to that found on the P8P67 Pro—the four SATA 3 Gbps from the PCH are in blue, the two SATA 6 Gbps from the PCH are in white, and two SATA 6 Gbps from a Marvell controller. Rather than place the Power/Reset buttons underneath the SATA ports, they are found amongst the myriad of USB and IEEE 1394 headers along the bottom of the board, making them very inconvenient if all three full-size PCIe slots are occupied with dual slot cards.
The PCIe slot arrangement is standard—enough space at the top for a full length PCIe x1 card, with a PCIe x16 slot underneath with a triple slot gap to the next PCIe x16. The three full length PCIe slots run in x16/x0/x4 or x8/x8/x4 mode for GPU setups. However, the bottom PCIe slot shares bandwidth PCIe x1 slots, a two USB ports in the IO panel and the eSATA IO port—all of these are inactive if the bottom PCIe is in x4 mode. By default, the PCIe is in x1 mode, and requires a BIOS setting change for x4.

The IO panel for Z68 boards supporting integrated graphics is a combined mix of previous P67 and H67 iterations, and as such we either lose legacy connections or USB ports infavor of video out ports. There's no PS/2 legacy connector—instead we have on the far left four USB 2.0 ports, then another two USB 2.0 ports, the eSATA 3 Gbps port powered by a JMicron JMB362 controller, and a Bluetooth module. These red USB 2.0 ports/eSATA port are the ones disabled when the third PCIe is in x4 mode. In terms of video outputs, we have a HDMI, DVI and VGA—no display port here, instead you get an optical S/PDIF out (which also means no coaxial S/PDIF out). Just a single gigabit Ethernet port powered by an Intel 82579, and a pair of USB 3.0 ports powered by ASMedia controller. Standard Realtek ALC892 8-channel audio is also present.