Introducing the CyberPower Gamer Xtreme FTW
There seems to be an interesting cottage industry between custom desktop boutiques in trying to build the single fastest machine consumers can buy, and it's not at all dissimilar to the kind of competitive thinking that produces utterly impractical video cards like the AMD Radeon HD 6990 or NVIDIA GeForce GTX 590 that threaten to populate those machines. Somewhere along the line, someone said "screw it" and decided to figure out just how much of a speed demon they could build while still being able to market and sell it to consumers and support it without tarnishing the brand. DigitalStorm has pretty aggressively held on to our "fastest computer we've ever tested" crown for a while, but CyberPowerPC looks to steal it away with their Gamer Xtreme FTW Edition.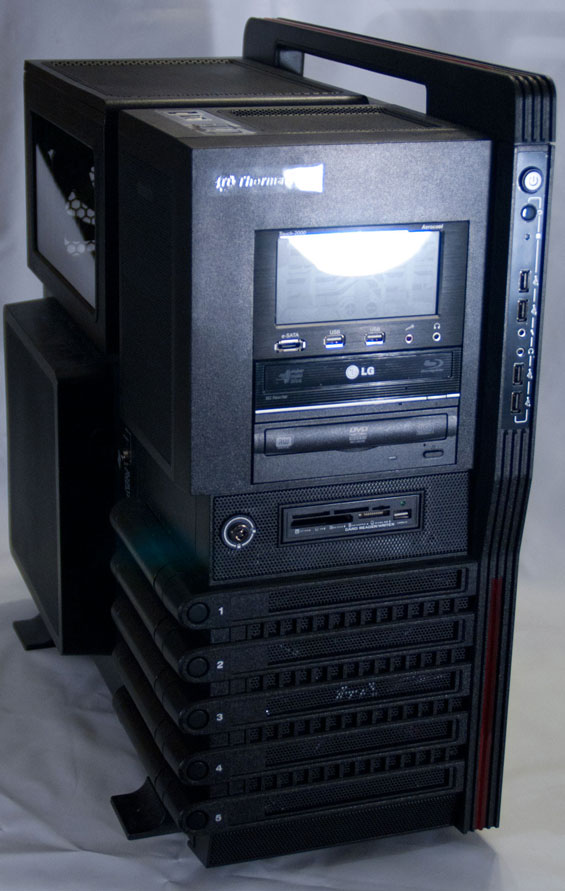 And so the arms race continues. I think if you'd told me ten years ago I'd be testing desktops like these for a living I'd've exploded with joy, but it's bittersweet. The CyberPowerPC Gamer Xtreme FTW is an absolute monster, but it's priced accordingly, and when I look at it I actually feel the same way I do when I discover my old Underground Seas (I've played Magic: the Gathering since '94) are worth at least $80 apiece: it's fun to play with, but essentially too hard to get for everyone to enjoy. How hard to get? Check this out:
CyberPowerPC Gamer Xtreme FTW Specifications
Chassis
Thermaltake Level 10 GT
Processor
Intel Core i7-990X @ 4.5GHz (25x180BClk)
(spec: 6x3.46GHz, 32nm, 12MB L3, 130W)
Motherboard
Gigabyte G1.Sniper Motherboard with X58 chipset
Memory
6x2GB Kingston HyperX DDR3-1600 (expandable to 24GB)
Graphics
2x EVGA GeForce GTX 590 3GB GDDR5
(1024 CUDA Cores, 607/1215/853MHz Core/Shaders/RAM, 384-bit memory bus)
Hard Drive(s)
2x Intel 510 120GB SATA 6Gbps SSD in RAID 0
Hitachi Deskstar 7K3000 2TB 7200-RPM SATA 6Gbps HDD
Optical Drive(s)
LG WH-10 BD-RE/DVD+-RW Combo Drive
Lite-On DVD+-RW Drive
Networking
Bigfoot Networks Killer Gigabit Ethernet
Audio
Creative SoundBlaster X-Fi Audio
Speaker, mic, line-in, and surround jacks for 7.1 sound
Optical/digital out
Front Side
AeroCool Touch-2000 Fan Controller
5x USB 2.0
Card reader
Headphone and microphone jacks
Top
Thermaltake Fan Controller
2x USB 3.0
eSATA
Back Side
PS/2 mouse and keyboard ports
Digital out
4x USB 2.0
2x eSATA
2x USB 3.0 (routed to top of the case)
Gigabit Ethernet
Optical out
7.1 surround jacks
Operating System
Windows 7 Home Premium 64-bit
Dimensions
23" x 11.1" x 23.2"
Weight
28 lbs (case only)
Extras
Cooler Master Silent Pro Gold 1000W PSU 80 Plus Gold Certified
Asetek 570LX 240mm Liquid CPU Cooler
AeroCool Touch-2000 Fan Controller
Card Reader
Warranty
3-year limited warranty with life-time customer care
Pricing
Starts at $1,565
As configured $5,017
So yeah, I believe that's the first time we've broken five grand on a custom desktop machine. But when your motherboard, CPU, and case retail for nearly two large all by themselves, that's not too surprising.
For starters, there's the Intel Core i7-990X, arguably the fastest processor Intel ships today. While it doesn't quite have Sandy Bridge's raw clock-for-clock performance, it makes up for that shortcoming by sporting six Hyper-Threaded cores. And because it's built on Intel's 32nm process, it runs remarkably cool. Stock clock speed is 3.46GHz with 12MB of L3 cache, and it's able to turbo up to as much as 3.73GHz on two cores. CyberPowerPC has overclocked the hell out of it, though, but they opt not to make use of the unlocked multiplier on the CPU: they've instead ratcheted up the BClk from 133MHz to 180MHz and actually reduced the multiplier to 25x. The resulting clock speed is a respectable 4.5GHz, fast enough to put it in competition with Sandy Bridge for single-core speed, and with 50% more cores than the current SNB offerings. Strapped to the i7-990X's three memory channels are six 2GB DIMMs of Kingston HyperX DDR3-1600 for a total of 12GB, running at DDR3-1440 due to the change in BClk.
Supporting this demon of a CPU and its copious memory capacity is Gigabyte's G1.Sniper motherboard. Gigabyte recently released their G1 line of motherboards and they're pretty beastly; the Sniper model brings integrated Bigfoot Networks Killer 2100 Gigabit Ethernet along with Creative SoundBlaster X-Fi. There's the usual Marvell SATA 6Gbps controller as well, along with USB 3.0 support. The G1.Sniper is a very fully-featured piece of hardware, but you'd pay dearly for the privilege: the motherboard's retail price of $429 is onerous considering you can buy a Core i7-2600K and a P67-based motherboard to house it in for the same outlay.
CyberPowerPC didn't skimp on the storage subsystem either: while the 2TB Hitachi storage drive is an amusing divergence from the usual 1TB Western Digital Caviar Black, the pair of 120GB Intel 510 SSDs configured in RAID 0 produces a remarkably fast system drive that sports enough capacity for a healthy selection of games.
Of course, the big ticket items are the pair of NVIDIA GeForce GTX 590s configured in Quad-SLI. Each of these cards has two GF110 chips on it, complete with a 384-bit memory bus with access to 1.5GB of GDDR5 per chip. The GPUs themselves sport the full 512 CUDA cores, but they've had their clocks reduced to fit into the GTX 590's 300W thermal envelope. I'll admit I've been a bit snarky with this review unit: whenever I've had people come over, I've opened the side of the case, shown them to the two GTX 590s, and announced "get a good look; almost nobody else will ever see one of these, let alone a pair."
Finally, they house all of this incredibly powerful hardware in Thermaltake's new Level 10 GT enclosure. I hesitate to spend too much time talking about this case because I actually have one in house that I'll be reviewing soon. Oh, and the processor is liquid cooled with a 240mm radiator and four 120mm fans. And there's a kilowatt 80 Plus Gold certified power supply from a reliable vendor. And a fan controller in the front by NZXT. I think that covers everything. Suffice it to say, this is an awful lot of hardware.