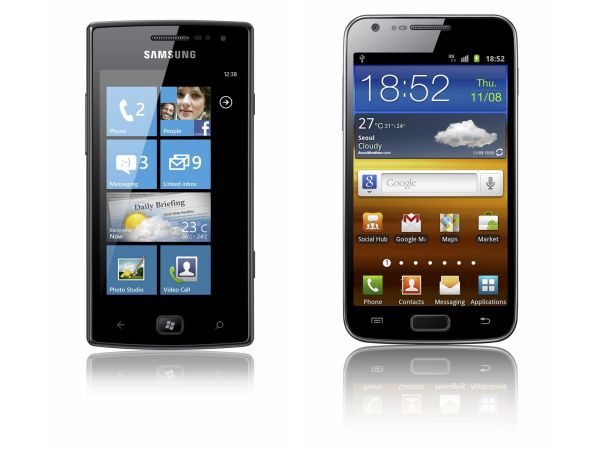 Samsung likes to fill a news cycle (expect more from them tonight), and so it's no surprise that on the same day that they reveal the details of the T-mobile SGSII variant, they also reveal a few other devices. First up, we have the Omnia W, which appears to be the international variant of AT&T's Focus Flash. The device sports a 3.7" Super AMOLED WVGA display, and rocks a Qualcomm single-core 1.4 GHz SoC while being the low-cost Windows Phone 7.5 option for non-US customers. The device will spread throughout Latin America, Asia and Europe after a late October launch in Italy.
Second, we have something truly drool worthy, the Samsung Galaxy S II HD LTE, a Korea-only product whose internals match the previously announced Galaxy S II LTE, marrying a 1.5 GHz SoC (likely Exynos) and LTE, but ups the ante with a 4.65" 1280x720 Super AMOLED screen. This variant yields a delightful 316 ppi pixel density, and joins the ranks of phones that are expected to sport HD resolutions in the coming months.
Though the SGSIIHDLTE (Ed. note: Mouthful!) was only announced for Korean markets today, we can expect something similar to grace our shores before too long. High resolution screens will be the new dual-core in the smartphone market, and after enduring WVGA across all variety of screens, we will be glad to see it happen. PR below, and stay tuned for more Samsung news as it happens.
Source: Samsung (1), (2)