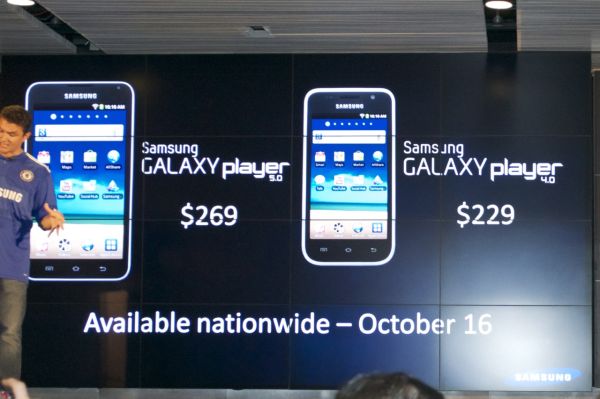 Samsung's been moving PMP's in one guise or another for some time. With the Galaxy Player line they claim to have the OS that can bring their media players to the next level, serving a user's media, gaming, internet and communications needs in one device. So what are these iPod Touch competitors like? Each is driven by 1GHz Hummingbird processors (single-core ARM Cortex A8, of course) and include 8 GB of on board NAND, expandable by microSD. Both models have 3.2 MP rear-facing and VGA front-facing cameras. The Galaxy Player sports Android 2.3 and the usual assortment of DLNA and Google Apps. If it sounds like these are Galaxy S phones without the phone part, it's because they are.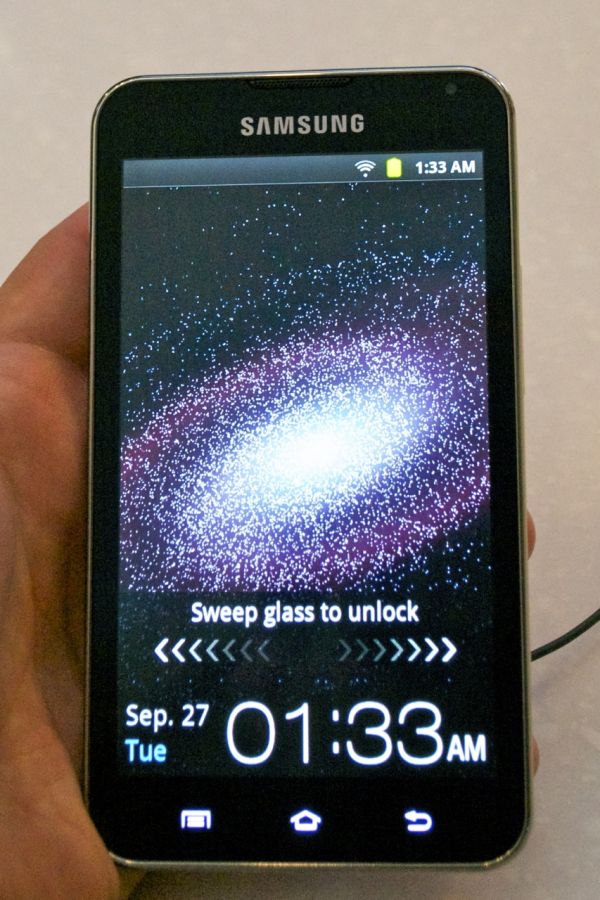 They're distinguished by their screen size, however users accustomed to Samsung's brilliant Super AMOLED displays might want to hold off from these particular models. The 5.0 comes with a 5" TFT-LCD at just WVGA (800x480). Contrast is less than stellar and the black notification bar was a murky grey. The 4.0 receives a 4" Super Clear LCD, analogous to S-LCD, which drastically improves viewing angles, and contrast. As a test for how the WVGA resolution works on larger screens, the 5.0 doesn't bode well. If nothing else, when you open a website on such a larger device, you really expect to see more content than on a 4" screen.
Form factor is vanilla slate; more vanilla than chocolate certainly, with the only case color an attractive white. The edges are slightly rounded, but the thickness of the devices lend a very blocky character to them. These are not thin, sleek devices like the iPod Touch. Why so thick? Batteries. The 4.0 packs in a 1200 mAh battery while the 5.0 uses a rather large 2500 mAh battery. The software is only lightly infused with TouchWiz, these ROMs sporting less than the full gamut of recent TouchWiz updates.
Samsung 2011 Galaxy Player Lineup
Samsung Galaxy Player 4.0
Samsung Galaxy Player 5.0
Network
802.11 b/g/n
802.11 b/g/n
OS
Android 2.3.5 (Gingerbread)
Android 2.3.5 (Gingerbread)
Display
4-inch S-LCD WVGA (800 x 480)
5-inch LCD WVGA (800 x 480)
Connectivity
Bluetooth 3.0, Mini USB
Bluetooth 3.0, Mini USB
NAND
8GB, microSD slot (up to 32GB)
8GB, microSD slot (up to 32GB)
Battery
1200 mAh
2500 mAh
Dimensions
2.53 x 4.87 x 0.39"
3.07 x 5.56 x 0.46"
Weight
4.27
6.42 oz
Price
$229
$269

Pricing places these in direct competition with the iPod Touch; the 4.0 matches Apple's wares at $229, while the 5.0 merits a $40 premium for its extra inch of screen real estate. Availability starts October 16th.