Alienware held a launch party in chilly San Francisco, California tonight to launch their upcoming X51 desktop. If you've been following them on Facebook, they've been doing a bit of a lead-up, doling out clues here and there about this new machine, but silly hype seems almost inappropriate for a launch like this one.

One thing Alienware has as leverage over boutiques is the ability to produce a custom chassis, due in no small part to their relationship with Dell. So while we've seen Micro-ATX and Mini-ITX custom builds from boutiques over the past couple of years, Alienware has the luxury of producing a more specialized enclosure. The result? A desktop gaming machine, using desktop hardware, the size of an old school Xbox 360.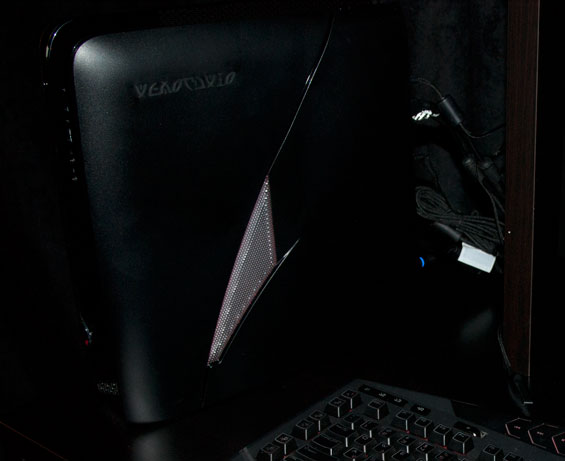 Internally, the Alienware X51 uses a Mini-ITX motherboard with a pair of DDR3 slots and runs desktop Intel Core i3/i5/i7 processors, not lower wattage mobile parts. There's also a slimline optical drive (available as a DVD burner or blu-ray reader), USB 3.0 support, and built-in wireless-n networking. For the single PCI Express x16 slot, Alienware uses a riser card that allows a roughly 9", dual slot video card to be mounted inside the enclosure. Finally, beneath the video card mount is a single 3.5" drive bay, though enterprising users can actually install a pair of 2.5" drives (provided you have the necessary adaptor cage) and there are enough SATA connections on the motherboard to handle both. That means you can use an SSD and mechanical storage combination if you're so inclined. For a custom build, the internals are remarkably standardized and look like they'll allow for easy upgrading.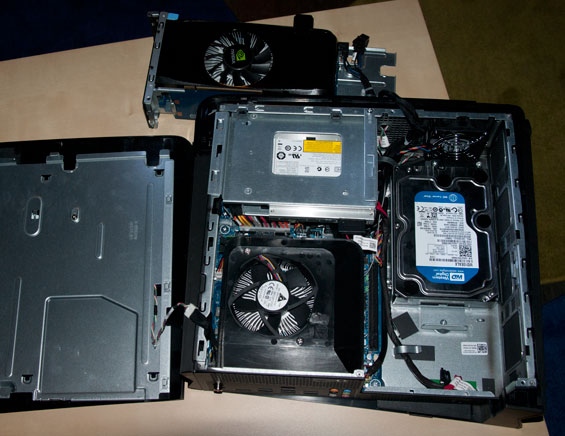 Since virtually every last scrap of internal real estate is being used and used efficiently, the X51 has to employ an external power brick similar to the ones used for Alienware's M17x and M18x notebooks. That also places a limitation on how much power the video card itself can draw: just 150 watts.
That video card is also where things get interesting. Alienware will offer the X51 with either an NVIDIA GeForce GT 545 or a GeForce GTX 555; both are OEM only cards, but both employ GDDR5, giving the cards enough bandwidth to handle Alienware's target 1080p resolution. The GT 545 is a cut-down GTX 550 Ti, with 144 CUDA cores, a core clock of 870MHz, and an effective memory clock of ~4GHz on a 128-bit memory bus. Note that this GDDR5 version is OEM only; the DDR3 version is the one available in retail. More serious gamers will want the GTX 555, which is a cut-down GTX 560, with 288 CUDA cores, a core clock of 776MHz, and an effective memory clock of ~4GHz on a 192-bit memory bus. Our experience with mobile GeForce hardware suggests the GTX 555 should actually be just enough to handle medium-to-high detail 1080p gaming. Finally, just to make things extra exciting, these cards and the X51 support NVIDIA's Optimus, making this a rare appearance for the power-saving technology on the desktop. Not bad at all.
The best part, though, is that Alienware will be selling the X51 starting at just $699. It's unusual for Alienware to lowball like this, but the build quality seems to be there, suggesting it could be a fantastic value. We'll have a review unit in as soon as possible.