XFX 1000W Pro Series 80 Plus Platinum
We've recently tested the first 80 Plus Platinum PSUs to hit our labs, courtesy of Seasonic and Enermax. Both were good if expensive PSUs, and next up on the test bench is a Platinum series that's sold by a brand without their own PSU factory: XFX. They sent us their newest product, the Pro Series 80 Plus Platinum Black Edition, which sets its sights on the high-end of the market. XFX has created an interesting casing with some unusual elements, but we need to find out how good this model acutally is.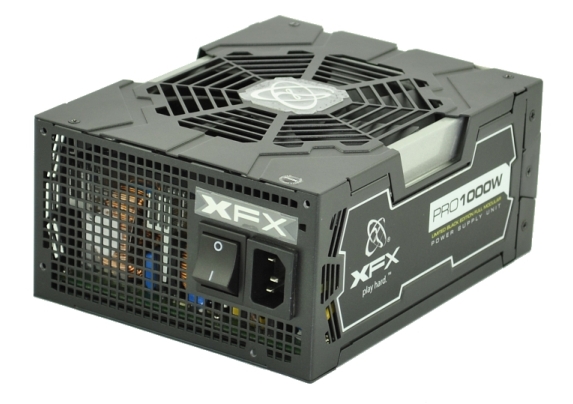 While efficiency is all the marketing rage in the world of PSUs, we should keep in mind that many manufacturers are trying to reach 80 Plus Platinum levels using some "tricks". As we noted in our Seasonic article, there are various routes to higher efficiency, like removing resistors that may fill other roles. Shunt resistors for example transform some of the power into power loss when current flows through it, since there is a voltage drop. That's actually their job as they measure and prevent overcurrent in an indirect way. So let's see how XFX reached the requirements for 80 Plus Platinum (90%/92%/89% efficiency at 20%/50%/100% load), as well as look at how the XFX model fares in an increasingly crowded market.
XFX has historically tried to cater to gamers, and the external design of the XFX Pro (as well as their other PSU lines) tends to go with an angular and "futuristic" vibe. While the exterior may or may not appeal to your gamer sense, ultimately it's what's inside that matters, and in this case we can see that Seasonic provides the electronics (as you can see from the picture below). We recently awarded Seasonic our Gold Editors' Choice Award for the high quality PSU they provided and this trend seems ready to continue. In any case, XFX made a good choice with the manufacturer. This design offers low ripple and noise results on all output voltages, high-quality capacitors from Japan, and several technologies to increase efficiency. Even so, XFX changed some details such as the fan for cooling.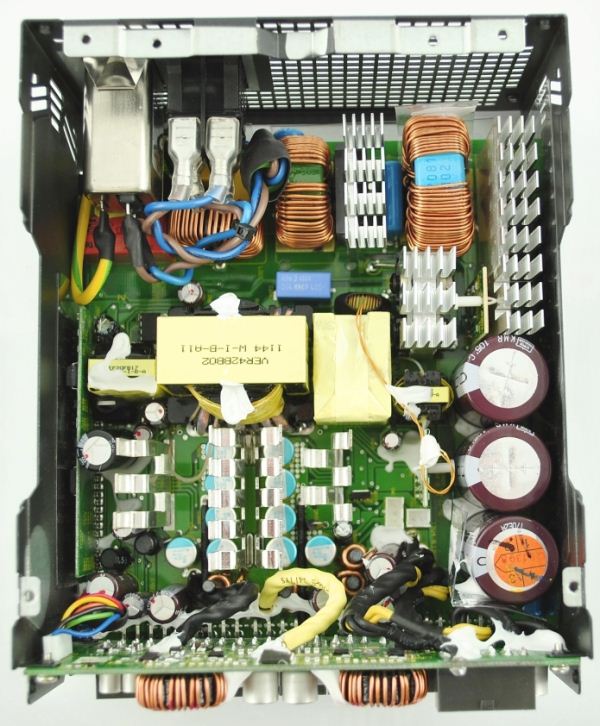 The question then is whether XFX's design is as good as or even better than the original Seasonic that we tested, and if the alterations made to the core design change the product as a whole. In addition, we would like to take the opportunity to let you know that we will be reviewing some lower wattage Platinum PSUs soon; this will definitely be the last 1000W PSU for the first have of this half-year. Our next reviews will test some 400W-500W power supplies from other brands that use more common designs. Today however we will continue with our high-end testing with the 1000W model from XFX. Besides, it's always interesting to see what features can be implemented when the keeping prices down isn't the primary concern.