I remember writing Intel and telling them that, from a tablet perspective, the Windows 8 launch might as well have been a Windows RT launch. By the time October 23rd rolled around, the only Windows tablets we had in for review were ARM based and running Windows RT. I even resorted to borrowing an unfinished Clover Trail tablet just so we'd have something to put Surface RT's performance in perspective at launch.
Clover Trail was late by about a month to the Windows 8 launch. Most of the traditional PC partners were delayed either by Intel or by burdens of their own. As much as we wished Surface RT would've launched with a different SoC, truth be told I don't know that anyone else outside of NVIDIA could've met the aggressive schedule that Microsoft set. Qualcomm and TI were both design partners working on Windows RT devices, but neither of them had solutions available at launch.
Now that we're two months out from launch however, things are starting to change. We've already reviewed one of the first Clover Trail tablets, with another on the way. And just before the holidays last year, this thing showed up: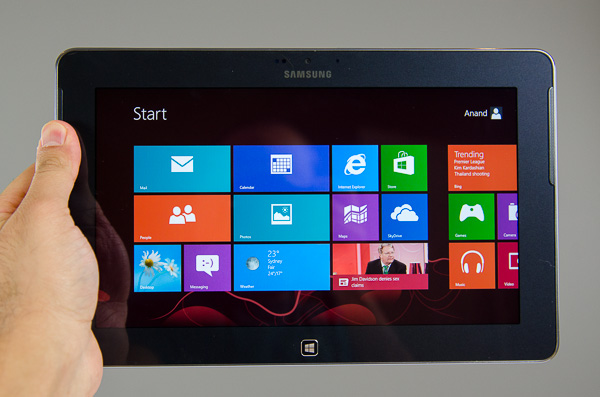 It may look like the Samsung ATIV Smart PC that Vivek is working on, but it's the smaller 10.1-inch ATIV Tab featuring Qualcomm's APQ8060A SoC. Yep, this is the first Windows RT tablet we have in house to use Qualcomm silicon.
In the phone space, Qualcomm's Krait based SoCs have generally been the preferred platform. Using TSMC's 28nm LP process, they've offered better power consumption than NVIDIA's 40nm LPG Tegra 3. The 2 Krait cores housed in the more popular of these SoCs (MSM8960), at least in phones, generally delivered better performance than the NVIDIA alternative as well. But that was in the Android space - would things be any different on a Windows RT tablet? With an inherently more multitasking friendly device and OS, would NVIDIA's quad-core approach trump Qualcomm's pair-of-faster-cores? And what about battery life? Tegra 3 did remarkably well in Surface RT, but how would Qualcomm fare?
Armed with Samsung's ATIV Tab, I tried to find out.
The Tab
As with most of Samsung's tablet designs, the ATIV Tab is a tablet built out of plastic and glass. The design and feel aren't bad, but they're nothing particularly new or exciting. The big benefit of the plastic chassis is of course weight. The ATIV Tab weighs in at 572g compared to 688g for Surface RT, it's around the same weight as the Acer W510 we reviewed a couple of weeks ago. The light weight means carrying it around is quite pleasant. And despite the plastic construction, build quality is solid. I noticed no creaks or unsettling flexibility in the chassis.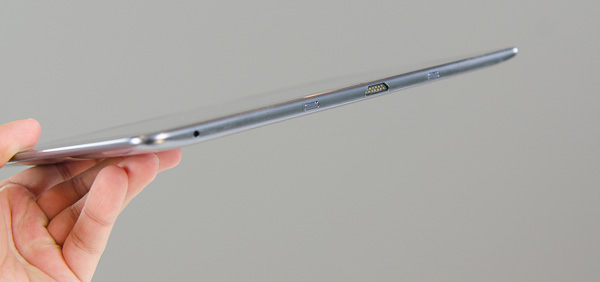 Internally there's a Qualcomm APQ8060A SoC (dual-core Krait running at up to 1.5GHz + Adreno 225, no integrated baseband) paired with 2GB of LPDDR2 memory. It is a bit surprising that Samsung/Qualcomm didn't opt to launch with APQ8064 (quad-core Krait), but I suspect this was a decision made more out of time to market than anything else.

On the storage side there's either a 32GB or 64GB eMMC solution soldered down on the board. Remember that Windows RT comes preinstalled with a full version of Office 2013 Home & Student Edition. After Samsung's preinstalled apps a 32GB ATIV Tab shows up with around 14.1GB of free space.
The ATIV Tab's 10.1-inch 1366 x 768 display makes for a familiarly portable form factor. While the Smart PC's 11.6-inch form factor makes for a better notebook, the ATIV Tab seems to be a better tablet.

Like the Clover Trail version, the ATIV Tab is littered with plastic doors over nearly every port around the perimeter of the device. Along the top the micro HDMI and full USB 2.0 port are behind a door, as is the microSD card slot. The doors do help maintain a smooth edge, but I'm not a fan of them.
Headphone jack, power/lock and volume up/down are also along the top of the tablet. There's no rotation lock button on the ATIV Tab. There's a physical Windows button on the front face of the tablet.

The sides are devoid of any intrusions into the ATIV Tab's design, while the bottom edge features the charge port as well what looks like a dock connector. My review sample didn't come with a dock and Samsung's website doesn't seem to list any keyboard dock accessory for the ATIV Tab, so for now this port goes unused.
There are a pair of reasonably loud (for a tablet) stereo speakers that border the display, while front (1.9MP) and rear (5MP) cameras complete the package for Samsung.
Tablet Specification Comparison
Samsung ATIV Tab
Apple iPad 4
Google Nexus 10
Microsoft Surface RT
Samsung ATIV Smart PC
Dimensions
10.46 x 6.62 x 0.35"
9.5 x 7.31 x 0.37"
10.39 x 6.99 x 0.35"
10.81 x 6.77 x 0.37"
11.97 x 7.46 x 0.39"
Display
10.1-inch 1366 x 768 IPS
9.7-inch 2048 x 1536 IPS
10.1-inch 2560 x 1600 PLS
10.6-inch 1366 x 768 PLS
11.6-inch 1366 x 768 PLS
Weight
1.26 lbs
1.44 lbs (WiFi)
1.33 lbs
1.5 lbs
1.64 lbs
Processor
Qualcomm APQ8060A (2 x 1.5GHz Krait, Adreno 225)

Apple A6X (2 x Swift, PowerVR SGX 554MP4)

Samsung Exynos 5 Dual

NVIDIA Tegra 3

Intel Atom Z2760 (2 x 1.8GHz Atom, PowerVR SGX 545)
Connectivity
WiFi
WiFi , Optional 4G LTE
WiFi
WiFi
WiFi , Optional 4G LTE
Memory
2GB
1GB
2GB
2GB
2GB
Storage
32-64GB
16GB—64GB
16GB or 32GB
32GB or 64GB
64GB
Battery
30.0Wh
42.5Wh
33.75Wh
31.5Wh
30.0Wh
Starting Price
$499?
$499
$399
$499
$599
The more I use other Windows RT/8 tablets, the more I'm realizing that the stability issues I encountered with Acer's W510 are more a function of that tablet and less a general Microsoft problem. Although I did experience a couple of unexpected app crashes, the overall experience with Samsung's ATIV Tab was positive. I didn't see anywhere near the number of cases of strange behavior as I did with the W510. I'm beginning to wonder if Clover Trail's Windows 8 software stack isn't as mature as the Windows RT implementations that I've played with.