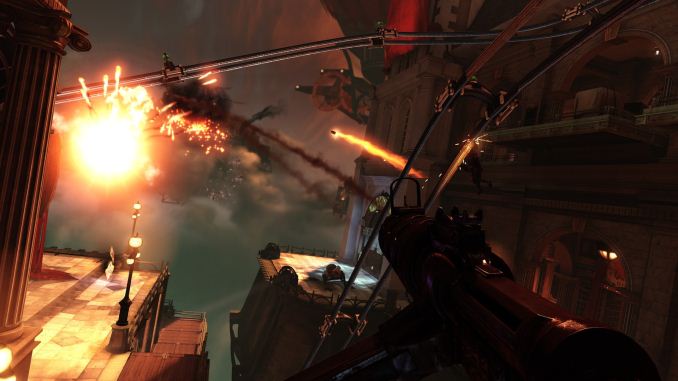 With Christmas just around the corner and all the festivities and shopping, I've neglected to mention the Steam sales that are going on right now. They're being updated daily, but some of the current deals deserve a shout out – Batman: Arkham Origins for example is 50% off (until 12/21), so you can get one of the latest games for just $25. (Try that on a console!) Bioshock Infinite is another great game that you can pick up for $10 (75% off), Dead Island is available for $5 (75% off), Dishonored is $7.50 (75% off), Mirror's Edge is $5 (75% off), and even the pre-order for Metal Gear Rising: Revengeance is getting a 33% off sale, so it's $20 right now. There are many other games on sale, and as mentioned the list is being updated daily, so if you have some spare change still floating around the Steam Store is certainly worth a look.
Being Thursday, there's also a new Humble Weekly starting up. This one doesn't follow the traditional format in several ways. First, there are only four games, and they're all from PuppyGames. The titles on hand are games that I haven't personally played before (or even heard of), but don't let that stop you as there are boatloads of good games I've missed I'm sure. In order of release date we have: Titan Attacks! (March 2006, ~72%), Droid Assault (May 2008, ~80%), Revenge of the Titans (May 2010, 79%), and the more recent Ultratron (March 2013, ~77%). All are retro-style games, and while they're all normally $10 at Steam, right now they're on sale for $2 each. But Humble goes one better and provides all four for your donation, to the developers, Humble Bundle, or the GamesAid charity—any amount will do, starting at a whole penny.
So I mentioned that there are a few differences between this Humble Weekly and previous offers. First is that there are no bonus games at the $6 tier; instead, you get Steam codes if you pay more than the average (currently $3.35); otherwise you "only" get DRM-free Windows, OS X, and Linux builds. (You do get the Sandbox Mode on Revenge of the Titans if you beat the average as well—normally a separate DLC.) There's a stretch goal as well with this bundle: if it raises more than $150,000, PuppyGames will release the source code for all four titles. For anyone looking to get into game programming, that could be a nice little bonus, but perhaps more importantly it opens the door for the modding community to take the reins and run wild. Interesting to note is that the average for Linux purchases is over $1 more than for Windows/Mac users, suggesting the Linux community is perhaps working harder to unlock the source code.
Whatever you want to pay to play, enjoy the games and we at AnandTech wish you all a safe and happy holiday season!
Source: Humble Weekly