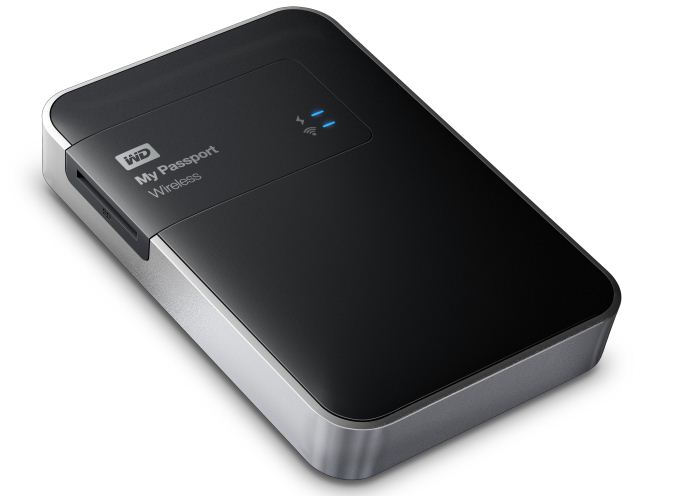 The popularity of the mobile device market (smartphones and tablets) has opened up an allied opportunity for companies - augmenting the limited storage available in those devices with portable wireless devices while adding extra functionality to make them compelling offerings. Under the 'wireless storage' category, we have already looked at various offerings such as the Kingston Wi-Drive, Seagate GoFlex Satellite, Patriot Gauntlet Node, Buffalo MiniStation Air Wireless Hard Drive and the Seagate Wireless Plus. All these units have a hard drive or flash drive, a Wi-Fi radio and a battery. In conjunction with various mobile apps, they enable a host of interesting use-cases. Given the popularity of this market category, it is surprising that Western Digital has not had any play in it. Things are changing today with the launch of the My Passport Wireless Wi-Fi Mobile Storage lineup.
Even though the device is a late entry into this market, it brings along some interesting features that are not common in other competing devices. These include:
Presence of a SD card slot with one-touch / automatic backup capabilities from the SD card to the internal storage
Usage of a 2x2 802.11n MIMO-capable Wi-Fi chipset
Reuse of Western Digital's excellent My Cloud app (which has traditionally been used in conjunction with Western Digital's NAS units) with a redesigned user interface to support the functionalities offered by the My Passport Wireless.
Western Digital claims that the device allows up to 8 different devices at the same time (with a maximum of four simultaneous HD video streams). The rechargeable battery is rated for 6 hours of video streaming and 20 hours of standby. The USB 3.0 device port allows it to be used as a DAS. Western Digital has also added a Wi-Fi hub feature to the device so that moble devices connecting to it can still access the Internet through the My Passport Wireless while also enjoying access to the huge storage capacity. In addition to access through the mobile apps, there is also a web dashboard for configuration through any standard web browser.
In addition to targeting users with multiple mobile devices in the family, the My Passport Wireless also presents a valid use-case for a team of photographers or videographers on the go. Thanks to the SD card slot, users can quickly upload photographs and share it with the rest of the team easily. The unit also has FTP functionality to allow Wi-Fi enabled cameras to directly upload content to the My Passport Wireless.
The My Passport Wireless comes in three capacities, 500 GB, 1 TB and 2 TB. They are priced at $130, $180 and $220 respectively.
Source: Western Digital