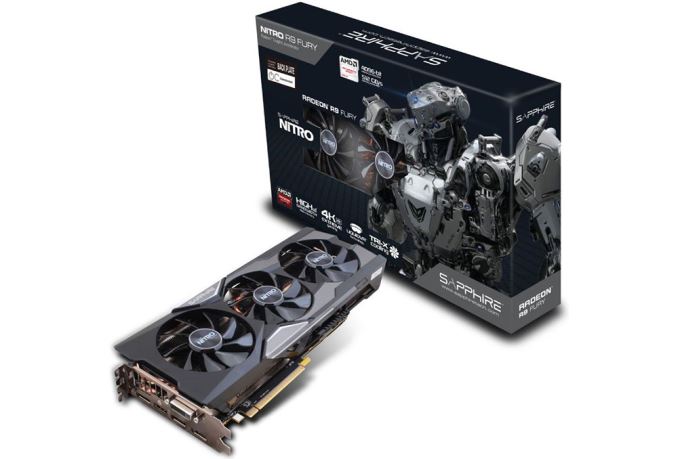 Sapphire Technology is preparing to release its new graphics card — the Nitro R9 Fury — based on AMD's Fiji graphics processing unit that features its own custom printed circuit board. Sapphire claims that the new Nitro R9 Fury will feature enhanced durability and slightly higher performance. In addition, it is logical to expect the adapter to offer greater overclocking potential compared to reference boards.
Sapphire is affiliated with PC Partner, a large Hong Kong-based holding, and is among the largest makers of graphics cards on the planet. The company works exclusively with AMD, which is why it offers a very comprehensive AMD Radeon product family. Sapphire's lineup includes numerous unique products designed in-house that are not available from other manufacturers. However, when it comes to AMD's Radeon R9 Fury family, Sapphire decided not to initially develop its own version of the more affordale R9 Fury (vanilla), unlike some other companies. The company tells us that they intentionally made the decision to introduce a Radeon R9 Fury featuring AMD's reference design and a custom cooler that is both silent and efficient instead of developing its own PCB.
PC Partner often acts as a contract manufacturer for AMD — it produces AMD FirePro and reference AMD Radeon R9 boards, which are then sold under various brands. As a result, unlike its rivals, Sapphire is less economically motivated to develop its own designs of printed circuit boards (PCBs) and transfer manufacturing to its own facilities as soon as possible to cut its costs down. This is another reason why Sapphire decided not to alter PCB design of the Radeon R9 Fury in mid-2015. Nonetheless, the company was not standing still and has developed its custom Nitro R9 Fury video card, which is expected to hit the market in January 2016.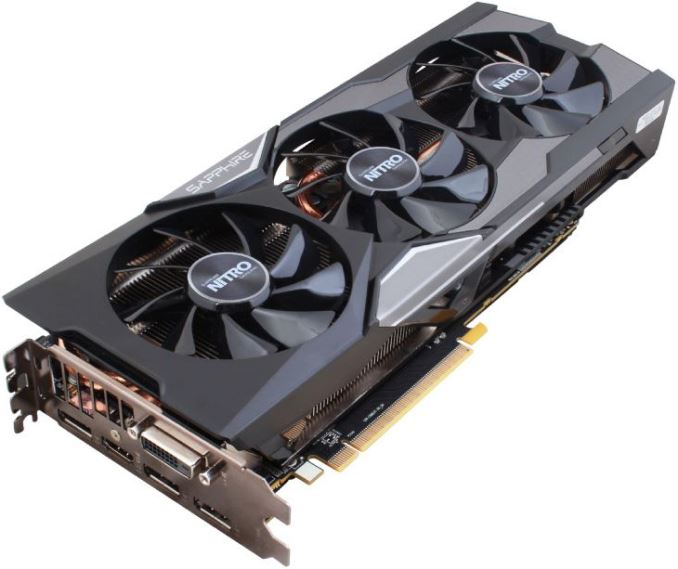 Sapphire's Nitro R9 Fury features the maker's own printed circuit board (PCB), which is noticeably different compared to AMD's reference design. The PCB is significantly taller and longer than that developed by AMD, and features six-phase GPU voltage regulator module (VRM) that uses Sapphire's own "Black Diamond" solid-state inductors with integrated heatsinks as well as high-quality tantalum 16K capacitors.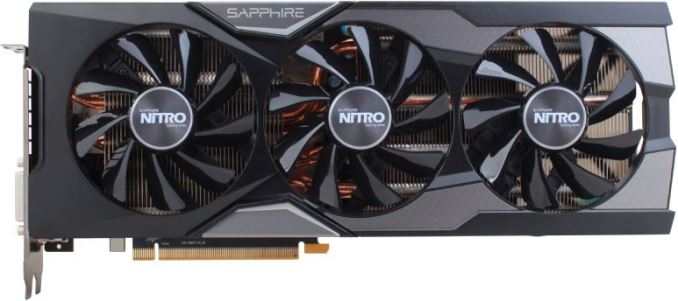 The new VRM provides cleaner and more stable power to the graphics processing unit, according to Sapphire. Moreover, the revamped voltage regulator module is rated to deliver around 20% higher current than the reference, which should enable better overclocking potential for the GPU. Components of the VRM are placed in a way to ensure their efficient cooling, which is why maximum temperature of the power delivery circuitry is at least 15% lower under high load compared to that on the reference graphics card, claims the developer.
The Sapphire Nitro N9 Fury retains AMD's dual UEFI BIOS technology, hence, it should be possible for enthusiasts to relatively safely play with power limits or even try to unlock disabled stream processors. One of the BIOS settings allows increasing power and temperature limits to 300W and 80°C for greater overclocking potential
The Sapphire Nitro R9 Fury utilizes the company's massive triple-fan Tri-X cooler with seven heatpipes, intelligent fan control, an aluminum backlplate and die-cast mounting plate for great cooling and additional reliability. Since the Tri-X cooler is large, the Sapphire Nitro R9 Fury will require 12" of space inside PC cases. Just like the regular Radeon R9 Fury video cards, the new board will need two 8-pin PCIe auxiliary power connectors.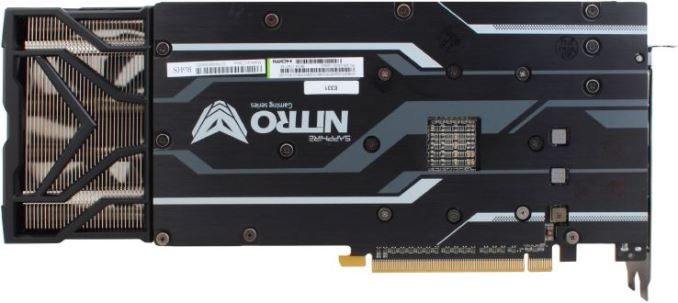 Sapphire's Nitro N9 Fury will sport one dual-link DVI connector, which should please owners of older displays. In addition, the card features three DisplayPort 1.2 and one HDMI 1.4 outputs.
The Sapphire Nitro R9 Fury is based on a cut down version of AMD's Fiji GPU, with 3584 stream processors, 224 texture units as well as 64 ROPs. The GPU will run at 1050MHz, which is slightly above AMD's recommendations, but owners will be able to overclock the chip further. Just like other Fiji-based offerings, the Nitro R9 Fury comes with 4GB of high-bandwidth (HBM) memory clocked at 1000MHz and providing 512GB/s of bandwidth.
Sapphire yet has to announce the final price of the Nitro R9 Fury, but PC Games Hardware reports that the card will cost about the same amount of money as boards featuring AMD's reference design.
Source: PC Games Hardware