SuperTalent are so confident in their speeds that they have teamed up with Ceedo, to provide Ceedo Personal at a reduced cost. The Ceedo Personal application allows the user to install any Windows applications onto the portable drive, and these applications can then be used on any compatible Windows PC, saving all the unique settings that user is accostomed to. We tried out the software on a couple of systems, having no issues on one, and a few quirks on the other. The quirky system needed a fiddle with security settings and some of the browser plug–ins disabled before the Ceedo Programs list would open. However, download tabs were greyed out, preventing us from installing anything from Ceedo's application list. The fix is probably a simple one, but not something we've stumbled across to date. Just a heads up to check out the free 45 day trial here for compatibility and ease of use before you buy.

32GB of storage in a thumb drive size...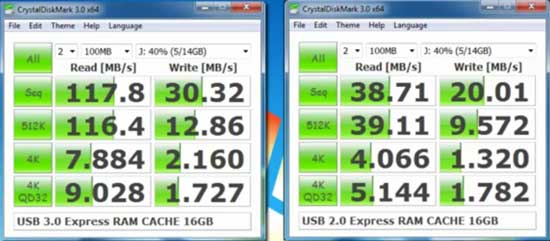 16GB Express RAM CACHE - USB 3.0 and 2.0 Performance figures...
Pricing of the drive and software bundles is as follows:

Unfortunately, these thumb drives aren't cheap. Step over to the 32GB and 64 GB models and you're getting close to ADATA N004 64GB and 128GB USB 3.0 SSD prices, sans the cost of Ceedo. Obviously the form factor comes into play for easier portability, but whether or not that's worth a $70 hike in price at 64GB capacity is another matter. There's also more direct competition from the likes of Kingston with their DataTraveller Ultimate series of flash drives (JMF controller based), however, we're not sure what controller SuperTalent are using at present so don't know how the two will compare in a head-to-head.
SuperTalent have posted up a Youtube for those of you interested in learning more: