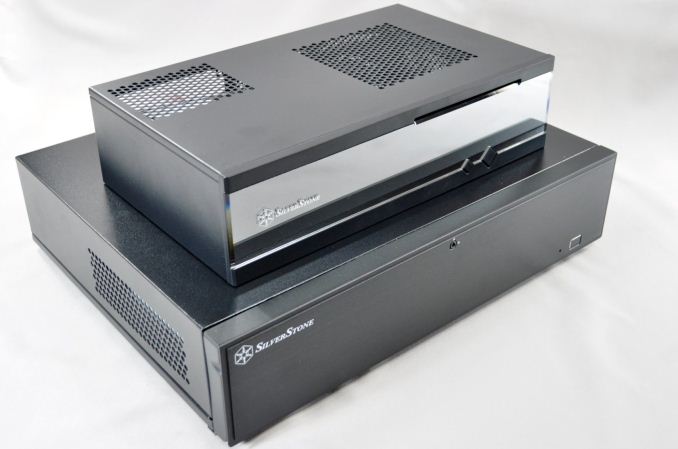 Silverstone ML04 and ML05 HTPC Enclosures: Introduction
Silverstone is well-known among technology enthusiasts, and while they offer a great selection of technology-related goods, cases and virtually everything enclosure-related are their specialty. The company offers a very impressive selection of such products, and for variety we decided to have a look at their low-profile HTPC products; even then, Silverstone had over a dozen from which to choose.
We requested they send us two of their most popular slim HTPC cases and Silverstone responded by sending us the Milo ML04 and the Milo ML05. The former is Silverstone's entry level HTPC offering, capable of holding up to Micro-ATX motherboards, while the latter is its smaller cousin, designed for Mini-ITX motherboards. As with most similar products, both of these cases are non-standard designs that have been developed specifically for use in living rooms, each with their unique features, strengths, weaknesses and limitations.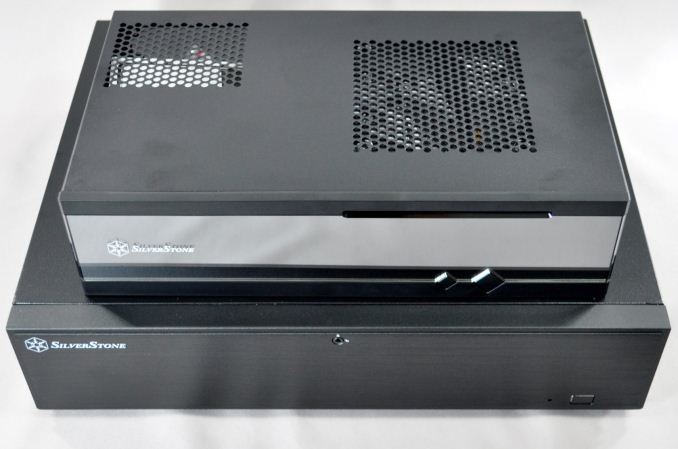 The following tables summarize the most important specifications of each case:
Silverstone Milo ML04
Motherboard Form Factor
Micro-ATX
Drive Bays
External
1 × 5.25"
Internal
1 ×2.5" 2 × 3.5"
Cooling
Front
-
Rear
-
Top
-
Side
4 × 80mm (none included)
Bottom
-
I/O Port
2 × USB 3.0, 1x Headphone, 1x Mic
Power Supply Size
ATX
Clearances
HSF
≈70mm
PSU
≈140mm
GPU
-
Dimensions
350mm × 440mm × 105mm (D × W × H)
13.78 in × 17.32 in × 4.14 in (D × W × H)
Weight
≈4kg (8.8 lbs.)
Price (without tax/shipping)
≈56.5 EUR / 74.99 USD
Silverstone Milo ML05
Motherboard Form Factor
Mini-ITX
Drive Bays
External
Slot Slot-Loading (not included)
Internal
4 ×2.5"
Cooling
Front
-
Rear
-
Top
1 × 120mm (not included)
Side
2 × 80mm (none included)
Bottom
-
I/O Port
2x USB 3.0, 1x Headphone, 1x Mic
Power Supply Size
SFX
Clearances
HSF
≈70mm / 37mm
PSU
-
GPU
-
Dimensions
204mm × 350mm × 99mm (D × W × H)
8.03 in × 13.78 in × 3.9 in (D × W × H)
Weight
2.1 kg (4.62 lbs.)
Price (without tax/shipping)
≈32 EUR / 39.99 USD