HPC
Several of the HPC benchmarks are way too expensive for us to test, and contrary to virtualization, web servers, and databases, we have little expertise in our lab to perform and fully understand these benchmarks. Nevertheless, we can get an impression from AMD's and Intel's own benchmarking. Two applications, LSDyna (Crash simulation) and Fluent (fluid dynamics) from Ansys seem to dominate the benchmark scene.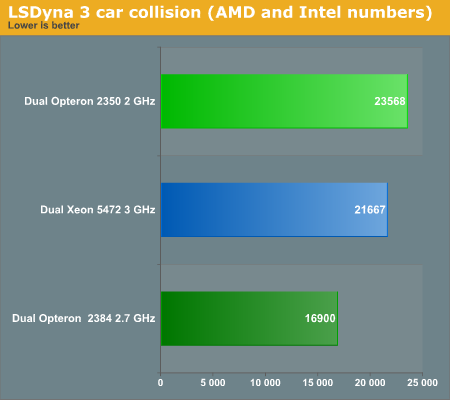 Back in 2007, the AMD 8350 was running at a paltry 2GHz, but it was already capable of keeping up with the best Intel CPUs. Intel seems to have improved its LSDyna scores a little bit. The introduction of the Xeon 5450 means that we get the same performance at a much lower TDP, but the Intel 3GHz CPU is no match for AMD's latest at 2.7GHz, as it still needs 30% more time to perform the complex crash simulation.
At the website of the Fluent benchmark we find a wealth of benchmarking info. The "Shanghai" numbers are not published there yet, so the numbers below are a combination of already published numbers (Intel) and AMD's own benchmarking numbers.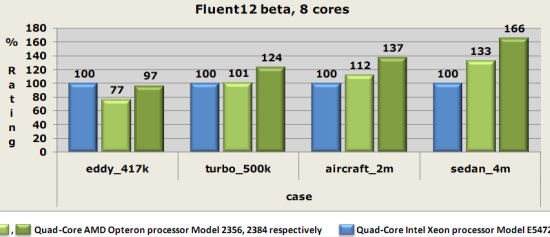 AMD's best quad-core is in a neck and neck race in the first benchmark, but the other benches show a significant (24%) to supreme (66%) advantage for the latest AMD chip. The newest AMD quad-core clearly strengthens the position of AMD in the HPC market.